Has Saudi Arabia declared 'war' against Lebanon?
"It is clear that Saudi Arabia and Saudi officials have declared war on Lebanon and on Hezbollah in Lebanon," Hezbollah leader Hassan Nasrallah said.
Targeting a series of accusations against Saudi Arabia, Hezbollah leader Hassan Nasrallah on Friday (10 November) said the kingdom has "declared war" against them and the whole of Lebanon.
The leader of the Shia Islamist political party based in Lebanon cited the alleged house arrest of Lebanese Prime Minister Saad al-Hariri as the biggest indicator of Saudi Arabia's intentions. He also said that the oil-rich kingdom could incite Israel to attack Lebanon.
Referring to the announcement by Hariri in a televised address from Riyadh about a week ago that he was stepping down from the post, Nasrallah said it was "beyond any doubt" that the Lebanese prime minister was forced to resign by the Saudis.
"All of a sudden, out of nowhere, Saudi Arabia called the prime minister on urgent matter without his aide or advisers, and was forced to tender his resignation, and to read the resignation statement written by them," Nasrallah said in Beirut, accusing Riyadh of "blunt, unprecedented interference", Al Jazeera reported.
Saudi Arabia was attempting to remove Hariri as prime minister in order to impose a new leadership on his political movement, the Hezbollah leader added, according to the BBC.
"We declare that the prime minister of Lebanon has not resigned. Hariri is our political opponent, but he is also our prime minister," he said.
He added: "In short, it is clear that Saudi Arabia and Saudi officials have declared war on Lebanon and on Hezbollah in Lebanon, but I have to say this is a war on Lebanon."
Nasrallah also alleged that Saudi Arabia was prepared to pay "billions" to Israel for a military strike against Lebanon and described the move as the "most dangerous thing".
He said US President Donald Trump must have been aware of Saudi Arabia's alleged plans regarding Hariri's "forced" resignation. The Lebanese president has, meanwhile, said he would not accept the resignation until Hariri returns to the country and explains his reasons for stepping down.
The allegations of war come a day after Saudi Arabian authorities ordered all its citizens living in Lebanon to immediately leave the country. The move came after Riyadh accused Iran of "direct military aggression", referring to the ballistic missile launched by Houthi rebels in Yemen on 4 November, targeting an airport in the Saudi capital.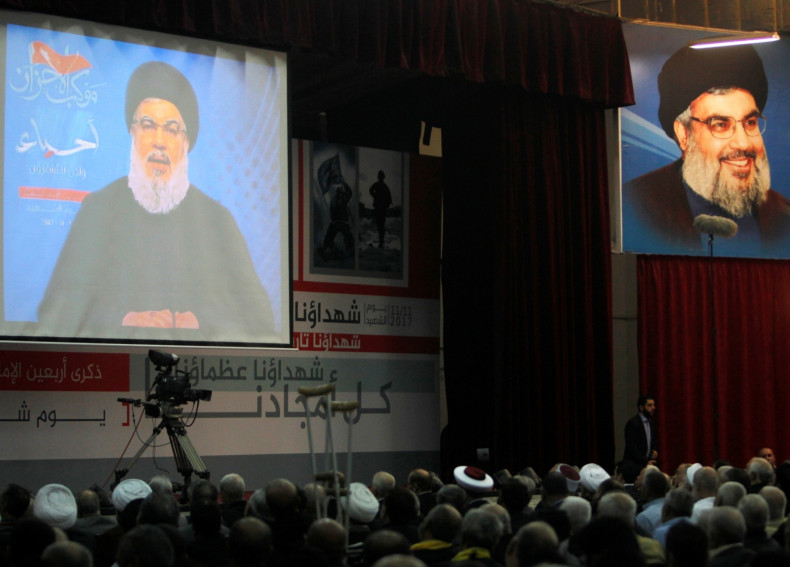 Iran had dismissed the allegations, terming them as "false and dangerous". However, on Friday, the US Air Force said the missile launched at Riyadh was Iranian, according to the Associated Press.
"There have been Iranian markings on those missiles," Jeffrey Harrigian, who oversees the US Air Force's Central Command in Qatar, told journalists at a news conference in Dubai on Friday. "To me, that connects the dots to Iran."
Tehran has not yet commented on the fresh allegations, but the revelation could escalate the ongoing tensions between Saudi Arabia and Iran.
Meanwhile, US Secretary of State Rex Tillerson warned the kingdom against using Lebanon "as a venue for proxy conflicts", referring to the raging tensions between Riyadh and Tehran.
He urged "all parties both within Lebanon and outside to respect the integrity and independence of Lebanon's legitimate national institutions".
He added: "The US supports the stability of Lebanon and is opposed to any actions that could threaten that stability."