South African team Mamelodi Sundowns have dropped their strongest hint yet sprint legend Usain Bolt will join their club to begin his career as a footballer.
Eight-time Olympic gold medal winner Bolt announced on Sunday [25 February] he had signed a deal with an unnamed club, adding a full announcement will be made at 8am [GMT] on Tuesday morning.
Among the thousands to retweet the Jamaican's video message were seven-time league champions Sundowns, who have followed up his message with a not-so-subtle one of their own on Twitter.
Bolt, 31, spent time with the Pretoria-based club at the end of January, visiting the country as part of an Athletics South Africa development scheme. The fastest man on the planet got involved in training sessions with the team, taking part in drills which the club documented through their social media accounts under the hashtag #SchoolofSpeed.
Last year, Sundowns signed a partnership deal with sportswear giant Puma for the 2017-18 season, Bolt's long-time sponsor.
Manchester United fan Bolt has long harboured the desire to swap athletics for professional football and insisted he would carry out that dream after drawing the curtain on a historic career on the track which yielded eight Olympic gold medals and 11 world titles.
One of sport's most celebrated figures recently claimed he has a trial with German club Borussia Dortmund, with who he also shares a sponsor in with Puma, pencilled in for March.
But a deal with Sundowns, who currently lead the South African top flight by four points, could already be in place.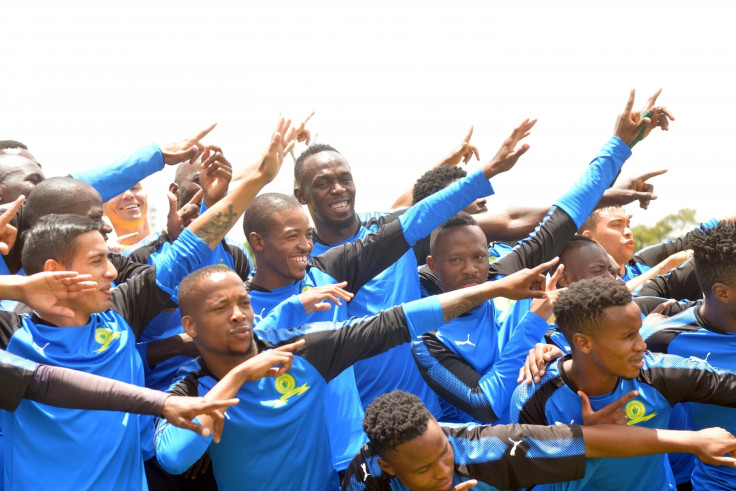 Bolt's final ever race ended in heartbreak at the World Championships in London last summer, pulling up during the anchor leg of Jamaica's 4x100m with a torn hamstring. He has since insisted however he has recovered from that problem and recently revealed his intention to "play some games" in 2018 in an interview with Fifa.