After being told that he has few weeks to live, a Florida-based teenager suffering from a rare cancer decided to spend the rest of his life with his high-school sweetheart.
In a dream wedding held on 28 January, Sunday, 19-year-old Dustin Snyder, who was given the heartbreaking news just three weeks ago, got married to the "love of his life" Sierra Siverio while his supportive community rallied together to fulfil his last wish.
Snyder and his 21-year-old girlfriend had first met back in their middle school days in Valrico, Florida.
Although they parted ways, a family friend says that the couple eventually rekindled their romance two years before the teen was diagnosed with the terminal disease – right before his 18th birthday.
Since then, Snyder has been fighting synovial sarcoma, a rare form of cancer. While his first surgery proved to be successful – doctors even believed that they were able to remove the mass from his left lung – the cancer returned a few months later.
"They told him he had just a few weeks and that there was nothing they could do," said Nicole Jordan Roberts, a friend of the family. "His mom told me she wanted to do as much as she could with him in the little time he had. She wants him to experience as much as he can," she dished to People magazine.
And days later, Snyder was actually waiting at the end of the aisle, as his soon-to-be-wife took the steps towards him, in the bittersweet ceremony. What followed next was pretty magical. Not only did the newly-married couple exchange their vows, but also had their first dance, swaying to the tunes of Perfect by Ed Sheeran at The Big Red Barn Venue in Oak Hill, Florida.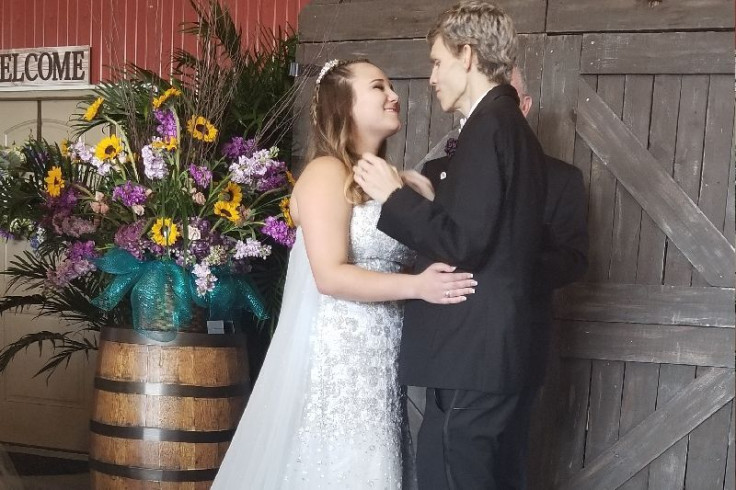 "This day was about being happy... I saw Sierra crying when he danced with his mom and she was crying with a smile across her face. It was hard thinking that this is the last dance she'll have with her son," explained Roberts.
The heart-warming wedding wouldn't have been a reality if it weren't for the teen's sister Brittany – whose GoFundMe campaign raised almost $40,000 (£28,333).
"I feel amazing, this is the most special day of my life," newly married Dustin said, who is headed to Disney World for their honeymoon.