A Syrian videographer was forced to swap his camera for rescue efforts as he sprang into action to save lives after a blast hit a convoy of buses transporting evacuees from besieged villages on Saturday (15 April).
The explosion west of government-held Aleppo killed 126 people – many of whom were supporters of the current regime. At least 109 victims were from government-held towns, according to the UK-based Syrian Observatory for Human Rights.
The planned population transfer was part of a Four Towns agreement whereby civilians in areas under attack by both sides would be allowed to leave. It involved people from the pro-government villages of Foah and Kefraya and the rebel-held towns of Madaya and Al-Zabadani.
Videographer and activist, Abd Alkader Habak, was on the scene and was knocked out by the blast, according to CNN. Upon regaining his senses, Habak first-hand saw the scale of horror that was unfolding before his very own eyes.
"The scene was horrible – especially seeing children wailing and dying in front of you," Habak told the US broadcaster. "So I decided, along with my colleagues, that we'd put our cameras aside and start rescuing injured people."
Habak first checked on one child, only to find he was already dead. He then moved onto another boy and found he was still breathing.
Habak scooped him up and pelted towards an ambulance with his camera rolling the whole time. "This child was firmly holding my hand and looking at me," he said.
According to his estimations, the boy was between six and seven-years-old. Habak does not know if he survived the ordeal.
An image of Habak dropping the child off to receive medical attention was captured by another photographer, Muhammad Alrageb. Like the images of Alan Kurdi and Omran Daqneesh, Habak's actions and subsequent grief have come to poignantly characterise unimaginable suffering in war-ravaged Syria. At least 80 children were killed in the blast on 15 April, according to the Associated Press (AP).
"I wanted to film everything to make sure there was accountability," Alrageb told CNN. "I feel proud that there was a young journalist there helping save lives."
Habak returned to save more lives. This time, a heartbreaking image of him collapsing onto his knees was captured as the lifeless body of another child with their clothes torn off was sprawled on the ground.
"I was overcome with emotion," Habak said, recalling that moment. "What I, and my colleagues, witnessed is indescribable."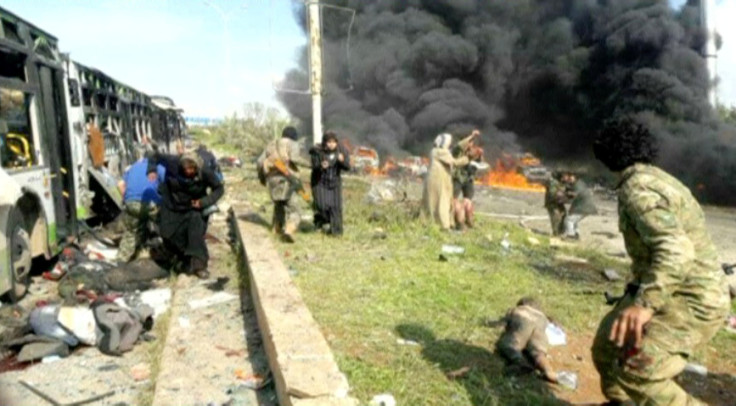 Following the attack, UN Secretary-General António Guterres released a statement saying: "We condemn the attack today in Rasheedin, west Aleppo, on 5,000 evacuees travelling from the towns of Foah and Kefraya to government-controlled areas. We express our condolences to the families of the victims of the incident and wish those injured a speedy recovery.
"The evacuations were being conducted in accordance with the agreement reached pursuant to the Four Towns agreement, covering Foah, Kefraya, Madaya and Zabadani. We call on the parties to ensure the safety and security of those waiting to be evacuated. Those responsible for today's attack must be brought to justice."