Aleppo residents report heavy bombing on the eastern part of the embattled city targeting at least three neighbourhoods.
Aleppo-based activist Baraa al-Halaby told the Associated Press that warplanes were firing missiles and helicopters were dropping barrel bombs on the eastern part of the city. Civil defence official Ibrahim Abu al-Laith, who is also in Aleppo, told Reuters: "It's all airstrikes and parachute bombs. Today, the bombing is violent... There hasn't been this kind of attack in more than 15 days." The Twitter account of 7-year-old Bana Alabed, which is managed by her mother in East Aleppo, reported that more than 20 bombs fell in the space of minutes.
The Britain-based Syrian Observatory for Human Rights said the airstrikes hit three neighbourhoods, but it had no immediate reports on casualties. The observatory also reported government airstrikes on three hospitals in the past 24 hours in rebel-held villages west of Aleppo. Reuters reported at least one person was killed in the attack with medical staff and patients injured.
People in Aleppo reported receiving text messages from the Syrian regime of Bashar al-Assad on Sunday 13 November telling them to evacuate the city within 24 hours before the airstrikes resumed.
Russia said it halted airstrikes for three weeks and suspended combat operations in two instances to allow rebels and supporters to leave eastern Aleppo, but they refused to take up the offer.
In a meeting with the local press on 15 November, Russian Defence Minister Sergei Shoigu said that Russian forces, including the navy's aircraft carrier, launched a massive operation in the Homs and Idlib provinces targeting terrorist organisations such as the Al-Nusra front, but there were no official reports of operations in Aleppo at the time of writing.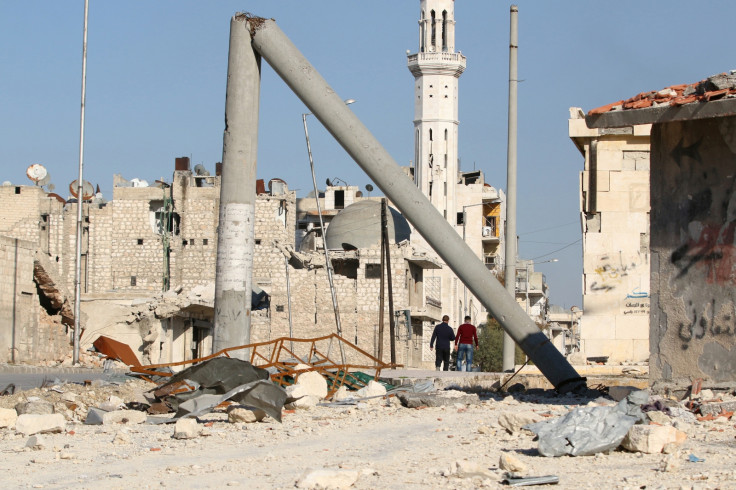 Reports from Moscow, however, suggested that the Russian and Syrian forces were preparing for a large-scale attack. In October, Russian official Franz Klintsevic told the Izvestia newspaper in October that "after the humanitarian break, the cleaning will begin," and US Secretary of State John Kerry feared Aleppo could be "bombed into smithereens".
Last week, the UN warned that food supplies were running out in the city as humanitarian convoys were blocked physically or administratively from reaching civilians, or they cannot depart because of crossfire or insecurity.
Russian Defence Ministry spokesman major general Igor Konashenkov said they received a UN request for a new humanitarian break, but he criticised the organisation for not delivering aid during the 10-hour ceasefire unilaterally upheld on 4 November.