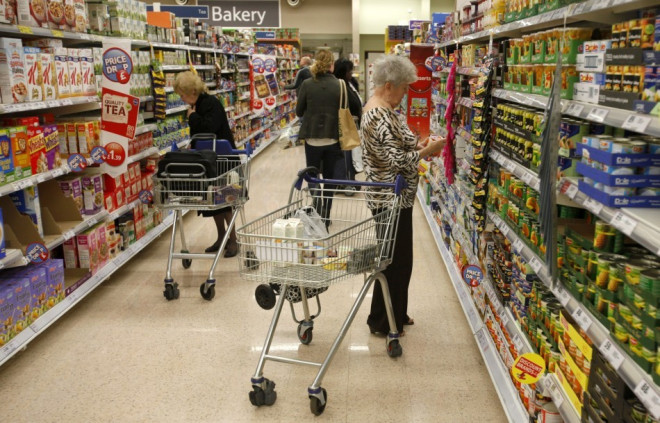 Shop price inflation has been falling for a year as retailers jostle for the attention of financially-squeezed UK consumers through heavy discounting.
The British Retail Consortium (BRC) said its shop price index slowed for the twelfth consecutive month in April, with inflation falling to 1.4%. In March the index grew by 1.7%.
"Hard-pressed families mindful of budgets in the run up to Easter break have been helped by the lowest level of food inflation since BRC records began in December 2006," said Helen Dickinson, director general of the BRC.
"Customers benefitted from prices and promotions in their local supermarket as they stocked up for the Easter holidays."
The BRC said food inflation slowed to 0.7% in April from 0.8%, the lowest ever recorded. Non-food reported annual decelerated deflation of 2.7% from 3.2% in March.
Wages are rising at around the same pace as consumer price inflation in the UK, ending a long period of real terms decline in incomes.
But there is a lot of lost ground and wages are worth around the same as they were a decade before.
This means that despite the UK's strengthening economic recovery, which the International Monetary Fund (IMF) says is the strongest of any western country, consumers are still feeling the pinch on their finances.
As a result, the high street has been frantically discounting in order to attract customers and get their stock out of the door.
Discounting has been particularly fierce among supermarkets where there is an ongoing price war. Tesco became the most recent to launch an assault when it slashed the prices of over 30 products, including its own brand bread, eggs and butter.
"Over the last six months we have seen shop prices falling and in recent weeks stabilising, whilst consumer confidence is slowly improving, shoppers remain cautious," said Mike Watkins, head of retailer and business Insight at Nielsen, which compiles the shop price report with BRC.
"So retailers are holding back on price increases wherever possible.
"With the escalation of price cutting by the major supermarkets impacting shopping baskets over the next few weeks, we can anticipate any external pressures on food inflation to be held in check for the time being."