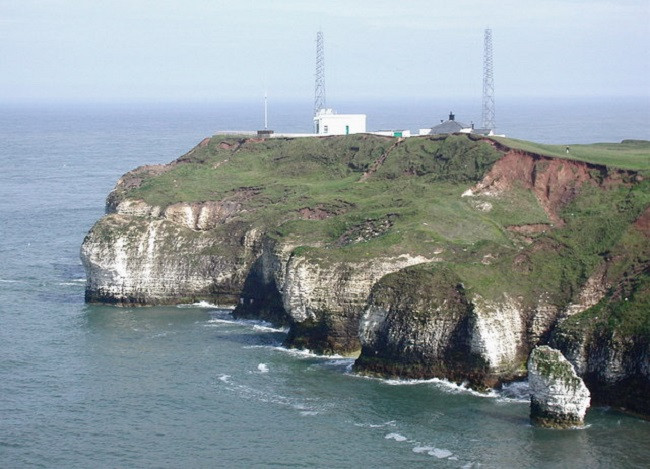 A helicopter has crashed into the sea in East Yorkshire.
Humber Coastguard said a full-scale search operation has been launched after a small helicopter crashed in Flamborough Head.
Police were called after a concerned member of public reported seeing the helicopter crash into the sea at 1.40pm.
The force said it was not a Humberside Police Helicopter and had been located near to the lighthouse. The number of casualties is not yet known.
Paul Litten, commercial director for Humberside Airport has confirmed the medium-sized private flight was on its way from Durham Tees Valley Airport before flying to another part of the UK.
"This was a private flight from Durham Tees Valley and was due to arrive with our air traffic controllers later this afternoon," he told the Scunthorpe Telegraph.
"Police and the coast guard are dealing with the emergency.
"I knew it was due in and heard that an aircraft emergency had been called. Our thoughts are with the people on board".
There appears to be a "quantity of what appears to be aviation fuel in the water around the crash site making it potentially unsafe at present".
"Police, coastguard and ambulance service attended the area right away and a search was carried out which resulted in the helicopter being located in the sea off the coast of Flamborough near the lighthouse," the police said in a statement.
"An area has been cordoned off while the emergency services and coastguard continue their work.
"Initial inquiries are being made in order to try and establish the circumstances which led to the helicopter coming down."
'We heard this really loud crack'
Eyewitness Chris Palmer told BBC Radio 5 Live: "We heard the helicopter. It was like a white, private helicopter going along the coast.
"We all heard this really loud crack and looked up again.
"The helicopter started to descend, almost like a plane when it lands.
"It then went behind the cliff and that's when I called the emergency services. I never actually heard it hit the sea."
Members of the public have been advised to stay away from the area "until further notice due to the dangerous cliff edges".
The Maritime and Coastguard Agency said a coastguard officer was winched down to assess the crash site by the search and rescue helicopter from Leconfield.
An agency spokesman said: "The aircraft is believed to have been returning to Humberside Airport when the incident occurred.
"The Humber Maritime Rescue Coordination Centre received a call at 1340 this afternoon that a small helicopter had gone into the water below the cliff, between the lighthouse and Flamborough Head Golf Course."
Chris Feast, from Flamborough Head Golf Club, told Bridlington Free Press a number of golfers had spotted a helicopter trying to land near the 17th green and then reported hearing a "loud bang and crash".
The Air Accidents Investigations Branch (AAIB) has dispatched a team to the crash site.