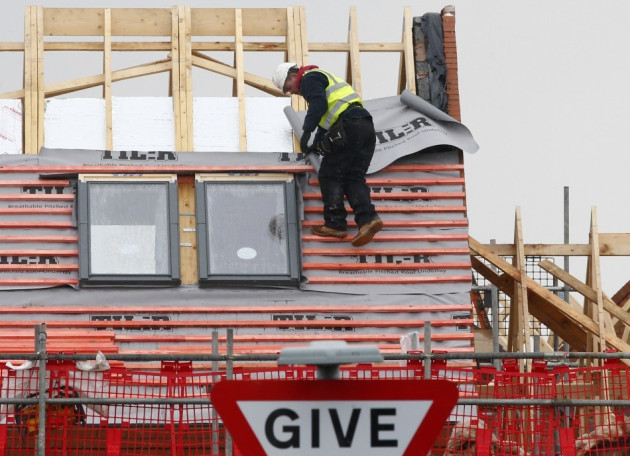 Concerns over the risks and practicability of the UK government's Help to Buy scheme are mounting as the second phase of the programme comes into effect next week, three months earlier than scheduled.
In the aftermath of the 2008 recession, would-be home buyers in Britain found it difficult to get on the property ladder as banks and mortgage lenders tightened their lending requirements. The scheme, promoted by Chancellor George Osborne, provides help to home buyers in the form of an equity loan and mortgage guarantee.
Nevertheless, the scheme has paved the way for a debate over the health of the housing market in the UK.
With house prices steadily rising due to significantly high buyer demand, many property experts have suggested that the scheme will fuel a housing price bubble. They say the UK should promote the construction of more homes to meet rising demand.
On 3 October, a survey by Halifax found that house prices are rising at their fastest rate in three years as more potential buyers flock into the market. Halifax noted that demand had been outstripping supply in recent months against a backdrop of low interest rates helped by government schemes such as Help to Buy and Funding for Lending.
What is Help to Buy?
Help to Buy is a government scheme designed to help people who are looking to get on to or move up the housing ladder. It assists existing home owners and first-time buyers to buy houses with as little as 5% deposit. Originally, it was launched to help first-time buyers only.
The scheme helps potential home buyers to purchase a property worth up to £600,000 in two ways.
1. Mortgage Guarantee: Under this option available for existing and newly built properties, government guarantees part of the buyers' mortgage if they have a deposit of between 5% and 20%. It significantly reduces original mortgage interest rates.
2. Equity Loan: Available for newly built properties, this option allows buyers to take up a government equity loan of 20% of the purchase price, if they have a deposit of 5%. Buyers may source the remaining amount from a traditional mortgage. The equity loan is interest free for the first five years.
The government has set aside £12bn ($19.3bn, €14.2bn) to provide guarantees for up to £130bn of mortgage loans under the scheme, which will remain open for three years to January 2017.
Lloyds and Royal Bank of Scotland, which are part-owned by the government, have already signed up for the scheme. In addition, lender Aldermore has committed to offering the mortgage guarantee scheme, but said it will not launch products until 2014.
Other major UK banks such as HSBC, Santander, Nationwide and Barclays are yet to decide whether to take part in the programme.
Property website Rightmove's Help to Buy check list is given below: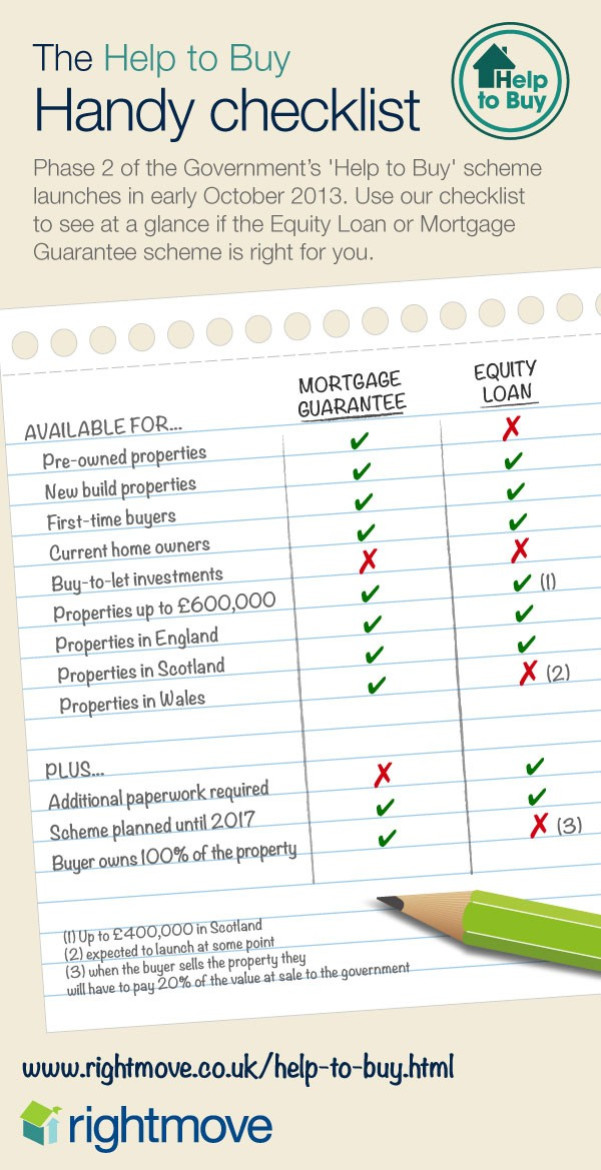 Against the Scheme
Many experts, including business secretary Vince Cable, have raised concerns about the scheme, saying it will lead to an unsustainable boom in house prices. The International Monetary Fund and former Bank of England chief Mervyn King have also warned about the risks of the scheme.
While demand for new houses is rising, the country faces a shortage in supply. According to a survey by Sky News, interest from potential buyers skyrocketed after the government announced the scheme on 29 September.
Clicks on Help to Buy pages of property website Rightmove remained far above average at 23,660.
"The signs are clear it will stimulate demand from buyers and those previously trapped with limited equity. It is better summarised as Help To Sell and Help To Buy again," said Miles Shipside of Rightmove.
A survey by Santander bank found that among 5.1 million Britons planning to buy a home in the next year, 1.6 million will use the scheme.
However, the existing supply is well short of the rising demand. The government previously said that it intends to stimulate the building of more homes with the scheme, but there is no evidence that this is happening, according to analysts.
Furthermore, Lloyds and RBS, which have joined the scheme, are not able to guarantee a launch date due to lack of details from the government, according to Sky News.
There were also criticisms that the beneficiaries of the £12bn stakes under the scheme will be estate agents, mortgage lenders, developers and rich home buyers, rather than hard-working families.
Housing charity Shelter said earlier that Osborne's programme will not benefit households earning £20,000 to £40,000 as they will not be able to pay the high monthly instalments.
"Nearly 80% of England's low to middle income families could not afford a home with a 95% mortgage," Shelter chief executive Campbell Robb said.