Highlights of Canadian Prime Minister Justin Trudeau's visit to Trump's White House
The two leaders vowed to maintain trade relations between the US and Canada.
Canadian Prime Minister Justin Trudeau on Monday (13 February) became the third foreign leader to visit US President Donald Trump since the Republican president was inaugurated in January. The visit, which included a roundtable meeting with female entrepreneurs, pitted a seasoned politician with the real estate mogul-turned-US president.
IBTimes UK rounds up some highlights of the visit between the neighbouring countries from firm handshakes to a joint commitment to trade.
Battle of the handshake
Trump's handshakes have become a topic of discussion in the weeks since he became president. Several people, including his choice for Supreme Court justice, Neil Gorsuch, and Japanese Prime Minister Shinzo Abe, have fallen pray to Trump's notorious grab-and-pull style of handshake. Trudeau, however, appeared to best Trump at his own game.
In video that has since gone viral, Trudeau is seen grabbing on to Trump's shoulder while giving him an equally firm shake. Trump later attempted a repeat handshake as they posed for photos in the Oval Office. "I think they might want a handshake," he said to the prime minister.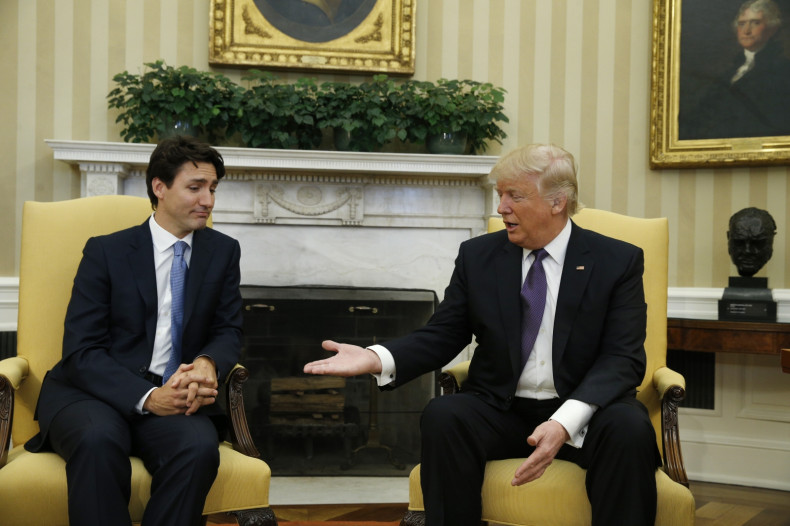 Trudeau was happy to oblige. Though he appeared hesitant, the Canadian leader went in for a second handshake with a giant grin on his face.
Female entrepreneurs' roundtable
The two leaders announced during their joint press conference that they would be kicking off a new task force called the United State Canada Council for the Advancement of Women Entrepreneurs. The roundtable discussion included the participation of women who are chief executives of companies in both countries, including Trump's daughter, Ivanka.
In statements released by the White House, Trump said: "They [women] play a tremendously important role, women in our economy… In order to create economic growth and lots of very good, well-paying jobs, we must ensure that our economy is a place where women can work and thrive."
Trudeau added: "Whenever I sit down with a woman executive, I know that she has had to overcome significant barriers that exist, and therefore is likely to have greater insight into how to help reduce those barriers for others, but also be a formidable contributor to the success of business and her economy. So I think for me, it's not just about doing the right thing, it's about understanding that women in leadership positions is a very powerful leverage for success, for business, for communities, and for our entire economy."
On trade
Trump and Trudeau mentioned the importance of trade between the US and Canada several times during their joint press conference, but did not give definitive details on whether the two countries would renegotiate the North American Free Trade Agreement (Nafta). Trump said the US would be "tweaking" its trade relationship with its northern neighbour but stoped short of calling for a major renegotiation.
"We have a very outstanding trade relationship with Canada. We'll be tweaking it," Trump said, according to Reuters. "It's a much less severe situation than what's taking place on the southern border. On the southern border, for many, many years the transaction was not fair to the United States."
The president said the US and Canada were stronger when they worked together on international commerce and added both countries benefited from having more jobs and trade in North America, Reuters reported. "We should coordinate closely—and we will coordinate closely—to protect jobs in our hemisphere and keep wealth in our continent, and to keep everyone safe," Trump said.
Immigration ban vs open-arms policy
Alhough Trump and Trudeau kept their meetings and joint press conference cordial, their countries' differing stance on refugees and immigration was on full display. Trump has opted to call for a stop to the admission of refugees and immigrants from several countries, while Trudeau has personally welcomed newly-arrived refugees in Canada.
Trump deflected a question about the US-Canada border being insecure and instead focused on discussing his administration's efforts to deport "the bad ones" out of the US. Meanwhile, Trudeau chose not to criticise Trump's failed immigration ban but instead focused on how the countries respected their different approaches to immigration.
"The last thing Canadians expect is for me to come down and lecture another country on how they choose to govern themselves," Trudeau said, according to New York Magazine. "My role, our responsibility is to continue to govern in such a way that reflects Canadians' approach and be a positive example in the world."