Several emails by and to Hillary Clinton released by the US State Department reveal just what the former secretary of state and her staff thought of several UK prime ministers. In two January 2010 memos from Clinton's advisor Sydney Blumenthal, David Cameron was criticised for his actions over the Northern Ireland peace talks.
"Cameron has intervened, threatening recklessly to destroy a generation of work, in order potentially to gain marginal seats in NI [Northern Ireland] in case of a hung parliament," Blumenthal wrote in his first memo. "Secret meetings were held at a country house of NI Unionists and Tories."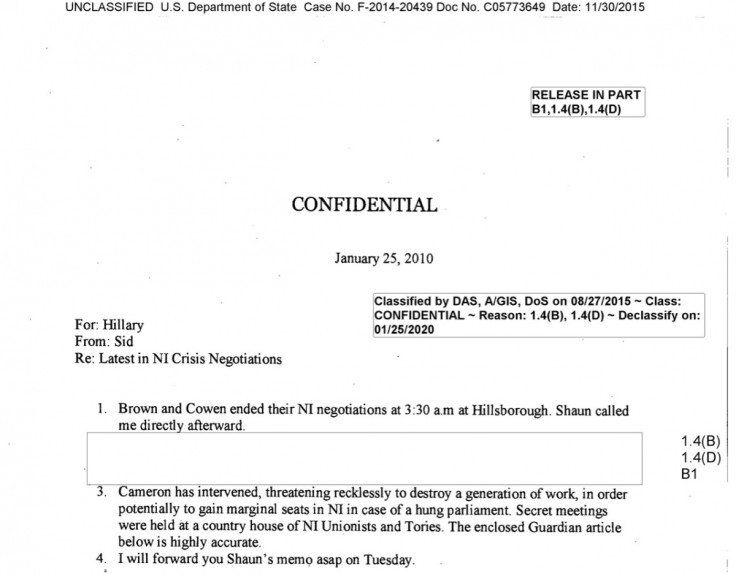 Following talks between then-Prime Minister Gordon Brown and his Irish counterpart, Brian Cowen, Blumenthal sent Clinton a second memo to update her on the situation. In his second note to the secretary of state, Blumenthal added a footnote with some damning words towards Cameron and the Conservatives.
"Cameron and the Tories have played a wrecking role," he wrote. "Cameron cares more about getting a few parliamentary seats for a majority by an alliance with the Unionists than the peace process. Having made that alliance he will be prisoner to it. It goes without saying (though I'll say it) that you've been consistently lied to." Blumenthal's comments came just months before Cameron became prime minister.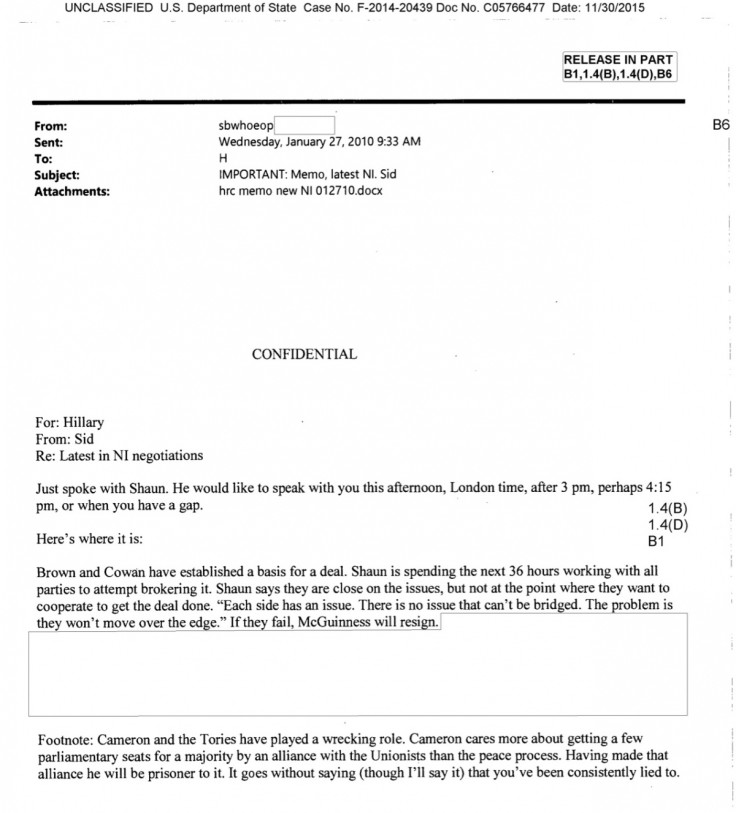 Discussions between Brown and Cowen would result in the Hisslborough Castle Agreement in February 2010 and the devolution of justice powers to Stormont, the BBC reported. The BBC's Northern Ireland political editor Mark Devenport said the emails are unlikely to affect a relationship between Cameron and Clinton if she is elected US president.
"The US would always be pushing for the successful conclusion to any talks, and right now, that's where the Conservative government would want them if there was any hiccup in the Northern Ireland political process," Devenport wrote.
The US State Department released the largest batch of emails from Clinton's tenure as secretary of state on 30 November. The release included 5,109 new emails with a total of 7,825 pages. The Democratic presidential frontrunner has been the centre of criticism by Republicans for her use of a private server instead of a government one during her term as head of the State Department.