Hillary Clinton: I want to be as good a president as Beyoncé is a performer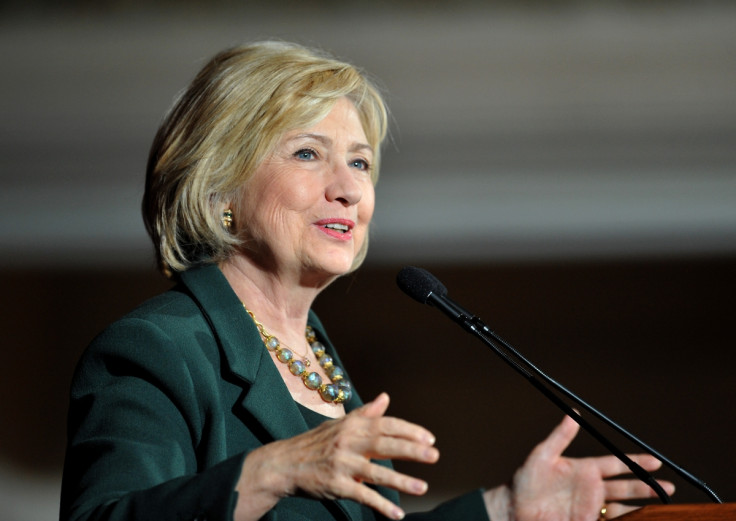 One of the problems with being a public figure is that more often than not, you get asked some tricky and awkward questions. For example, while at a public gathering in Iowa City on 16 December, presidential candidate Hillary Clinton was asked if she would rather be Beyoncé or the president.
Clinton, however, took it in her stride and explained, "Now, if I really had a choice, I'd rather be president because I can't sing. Nobody would pay to see me sing or dance. Even when I was a way lot younger, it just wasn't in the cards for me."
She went on to speak about her fondness for the singer saying, "You see her on TV, it's impressive. You see her in person, you're just stunned. Thinking like, how does she do that? Really. I mean, she sings, she's up, she's down. It's just amazing. So it's just not in my astrological reading, I think."
The former secretary of state then brought the conversation back to that of the presidency, "So I want to be as good a president as Beyoncé is a performer."
In early December, the 2016 candidate answered questions about Kanye West's decision to run for president in 2020. During an interview on Buzzfeed's Another Round, Clinton said, "I have to say, I've told Kanye that I think he might want to wait. Cause I'll be running for re-election."
She added that she wouldn't mind giving the rapper a role so that he could gain experience for when he decided to run. "I might want to give him some additional experience so he's got, on all the other things he's done on his resume, he's got some kind of envoy role or something he could point to."
According to the Washington Times, Clinton is currently leading the Democratic presidential nominations, with 33 points ahead of Bernie Sanders. "Clinton successfully ran the gauntlet this fall, appearing before the Benghazi committee and outlasting the specter of a Biden candidacy. She really hasn't lost ground since then," said Patrick Murray, director of the independent Monmouth University Polling Institute in West Long Branch, New Jersey.
She will take the podium at the third Democratic primary debate with Bernie Sanders and Martin O'Malley that will be held on 19 December in New Hampshire.
© Copyright IBTimes 2023. All rights reserved.