A third poll in more than a week is showing the Republican stronghold of Texas as more vulnerable in the 2016 election than it has been in decades. Some are even calling Texas a new swing state, and it all comes down to one thing: Donald Trump.
The Republican nominee is polling just 3% above Hillary Clinton according to a new University of Texas/Texas Tribune Poll released early Thursday (27 October). It shows Trump with a 45% share of the vote compared to Clinton's 42%.
"We were in the field collecting data at the tail end of Donald Trump's very rough month," said Jim Henson, head of the Texas Politics Project at the University of Texas at Austin, who carried out the poll from 14 to 23 October.
"We found more evidence that the race is tighter in Texas than a presidential race has been here in some time," Henson said. But putting Texas into the swing state category, he added, is "going a bridge too far."
Since 1980 Texas has consistently voted for the Republicans. If Clinton seized the state it would be a huge upset as Texas has the second largest share of Electoral College votes (38) after California, with 55.
Voters in the US do not directly elect the president. The system instead asks them to vote for an "elector" in the Electoral College, who has announced the way they intend to vote in advance. Gaining at least 270 electoral votes secures the presidency.
The definition of a swing state is where "you see a mixture of polls where one or another candidate is ahead by a few points" throughout the campaign, said Henson. Unlike well-known swing states such as Florida there "has never been any public polling showing Clinton ahead in Texas."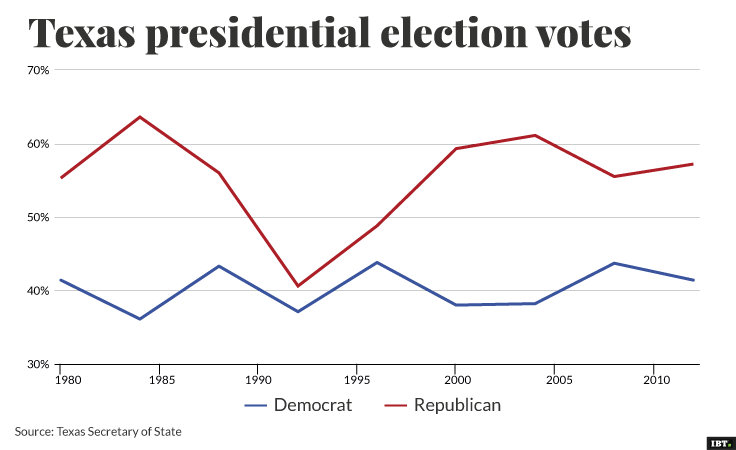 Still, the new poll shows a narrowing of Trump's advantage from June when the University of Texas poll showed him with an 8% lead on Clinton.
By 18 October, a University of Houston poll showed a similar 3% lead for Trump. Another, just days later, showed similar margins.
Behind this erosion is the fact that Trump is "not a perfect fit for the Texan Republican party" which has large numbers of women, Henson said. "[Trump] is under-performing among women by a pretty big chunk," he added.
A series of sexual assault allegations from nearly a dozen women, along with tapes of Trump making derogatory comments about women, has had a large impact on his campaign.
Looking back at a similar poll around the same time in the 2012 election, Henson said, Republican Mitt Romney was polling 52% among women in Texas to Barak Obama's 38%. Now the vote is split 45% to 45% between Trump and Clinton among Texan women.
"That's a significant problem for the Trump campaign," said Henson, since women and evangelicals "are two groups that are having a pretty big impact."