Hillary Clinton's pneumonia likely to prompt calls for both candidates to release medical records
Will the candidates follow John McCain's example and show public detailed health information?
US presidential candidates are likely to face renewed pressure to reveal their medical records after Democrat Hillary Clinton collapsed at a 9/11 memorial ceremony due to pneumonia.
Clinton was filmed leaving Ground Zero, appearing to stumble and lean on her security guards for help, after she felt ill at the Sunday morning ceremony.
Her doctor later released a statement explaining Clinton "has been experiencing a cough related to allergies," adding: "On Friday, during follow-up evaluation of her prolonged cough, she was diagnosed with pneumonia. She was put on antibiotics and advised to rest and modify her schedule."
Despite Clinton telling reporters she was 'feeling great' after she left her daughter's New York apartment several hours afterwards, Clinton's episode of ill health is likely to fuel calls for both candidates to show their medical records.
In July, Clinton released a summary of her medical records, signed by her physician Dr Lisa Bardack, confirming she is in good health, but her campaign has previously indicated Clinton will not be releasing further medical files.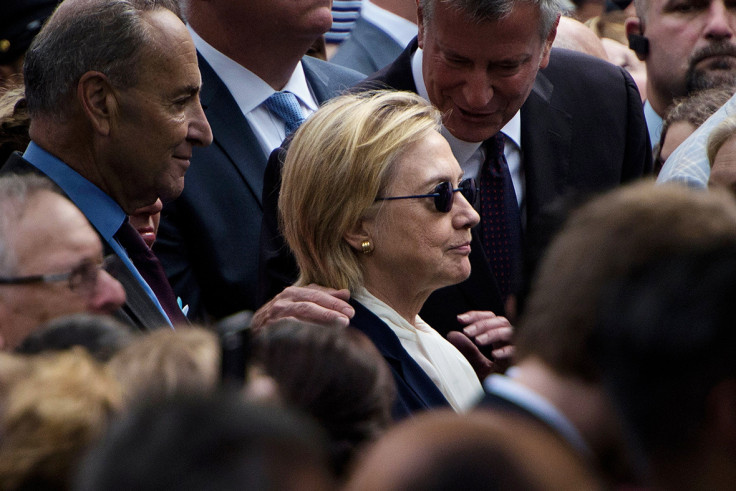 This is in stark comparison to Republican John McCain, who in 2008 released all 1,173 pages of his medical records following speculation that aged 71 the Arizona senator was unlikely to be physically fit enough to deal with the demands on being president.
Trump, who at age 70 would become the oldest president to take office if he wins the election, taking the record from Ronald Reagan who was 69 when he was elected, has previously suggested he will release his medical records if Clinton does.
However, despite being just one year younger than McCain was during his campaign, Trump has faced far fewer calls than McCain, and indeed Clinton, to prove he is in a physically fit state to take office.
In a tweet on the subject on 29 August, Trump stated: "I think that both candidates, Crooked Hillary and myself, should release detailed medical records. I have no problem in doing so! Hillary?"
The GOP candidate has not yet responded to Clinton's pneumonia diagnosis.
© Copyright IBTimes 2023. All rights reserved.