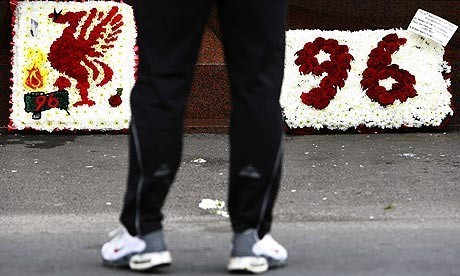 Survivors of the Hillsborough disaster have said they were "intimidated" and threatened with arrest by officers investigating the tragedy.
Fans who attended the FA Cup semi-final match in 1989 have told BBC's Newsnight that officers from West Midlands Police threatened them with prosecution after they blamed officers from South Yorkshire of being responsible for the tragedy.
Some of the survivors also said they were being mistreated by officers in the wake of the tragedy and accused West Midlands Police of not taking down their statements correctly.
An investigation into the incident in which 96 Liverpool fans were killed at the Hillsborough Stadium in 1989 already unveiled 164 accounts by South Yorkshire Police, with 116 explicitly negative comments about the policing operation removed altogether. Police records had been falsified in a bid to shift the blame onto the "drunken fans".
One fan who attended the game between Liverpool and Nottingham Forrest told the current affairs programme he survived being crushed against the gates behind the goal at the Leppings Lane stand – even losing consciousness at one point – before helping to carry bodies off the pitch.
John – not his real name – was 17 during the Hillsborough disaster. He claims when West Midlands Police officers came round to his house they refused to read back his official statement to him, instead telling him: "I've written what you told me. All you need to do is sign this now."
He added that when he saw his statement more than than 25 years later he complained it "was not my account" of the game.
Another fan, Nick Braley, went to the game as a neutral after been given a ticket by a friend. He said when he told West Midlands officers that South Yorkshire police failings had caused the disaster, he was warned he could face prosecution.
He said he felt "scared, traumatised and intimidated" by the police.
"I'm a 19-year-old boy, three weeks out of Hillsborough, traumatised, and he's ­threatening me that he's going to put together a case for wasting police time because he didn't like my evidence," Braley said.
He was also told the officers were not impressed because he was wearing a 'Free Nelson Mandela' t-shirt.
He said this prompted a series of aggressive questions.
"Was I a student agitator? Was I a member of the Socialist Workers Party? I'm just a fan at a game of football. He then turned on me and said I was a criminal with a grudge against the police," he added.
The publication of the Hillsborough Independent Report showed South Yorkshire Police orchestrated a cover-up of the events which happened on the day of the tragedy and raised ''serious questions'' over the work done by the West Midlands police force.
A new inquest into their deaths - after the original inquest verdicts of accidental deaths was quashed - is set to begin on 31 March at an unconfirmed location in the North West.