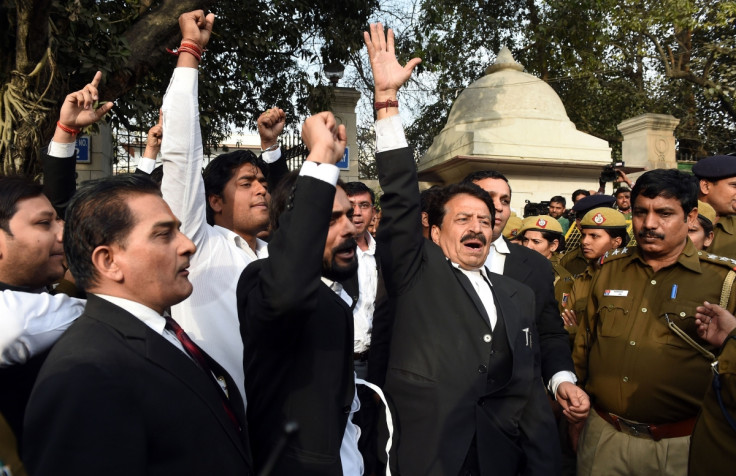 The Hindu Legal Cell has publicly congratulated those who attacked journalists and students at the Patiala House Court on 15 February. The India-based NGO claims to fight for legal justice for violations of the rights of Hindus or defamation against Hindu gods.
Their message came as the president of Jawaharlal Nehru University (JNU)'s student union was due to appear on charges of sedition for his role in an event hosted at the university. Violence broke out between lawyers and journalists ahead of the hearing, with reports indicating that a group of lawyers could be heard chanting pro-Indian slogans as they attacked journalists within the court premises.
Thousands took to Twitter to condemn the incident, as well as question the actions of the Delhi Police in during the violence. Reporters from the Economic Times, NDTV ABP, India Today and the Hindustan Times are among those who were caught in the scuffle. However, despite widespread condemnation, the Hindu Legal Cell seemed to have enjoyed the violence against journalists and students.
A message on their Twitter page read: "We support and congratulate the nationalists advocates who have beaten Afzal supporter and JNU students at Patiala House Court."
JNU has been at the centre of intense debate and protests since Kanhaiya Kumar's arrest on 12 February. His arrest came as JNU students staged a rally discussing the hanging of Mohammed Afzal Guru, the terrorist convicted over a 2001 plot to attack the Indian Parliament. Anti-India slogans were allegedly chanted by some students during the rally, prompting calls for the institution to be shut down amidst fears it was breeding "anti-nationals".
Others have echoed views of the Hindu Legal Cell, also taking to Twitter to express their joy at the journalists and students being attacked. Some indicated that the lawyers were right to "break their legs" as a punishment for the journalists supporting "goons" and "JNU traitors". Others said they wished they had been there to orchestrate the attacks themselves.
The words 'You Will Be Harmed' were trending on Twitter in the aftermath of the scuffle as NDTV reporter Sonal Mehrotra revealed that this was the warning she was threatened with by lawyers unless she left the court room. Mehrotra said she was confronted and "aggressively" asked to leave. Upon identifying herself as an NDTV journalist, she was told by the lawyers: "We don't require you here, leave or you will be harmed."