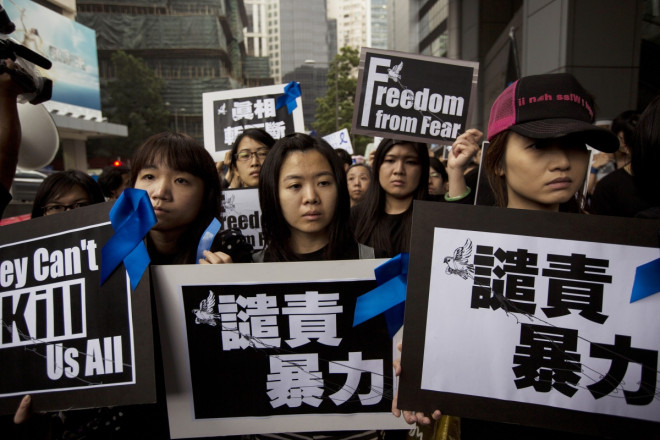 Police in Hong Kong and China have arrested nine people with suspected triad connections over the voilent attack last month on former chief editor of local newspaper Ming Pao Daily News.
Editor Kevin Lau was hacked with a meat cleaver in the back and across both legs in Hong Kong on 26 February.
It is alleged that Lau was attacked because he was an outspoken, investigative journalist.
Lau was earlier removed from the top editorial role at Ming Pao, prompting protests from Hong Kong journalists, who believe that the move was due to pressure from the Chinese Communist Party that looks to clamp down on press freedom in Hong Kong.
The Chinese language newspaper, which is known for its investigative reports, was working on an expose about how billionaires and political leaders in China use offshore tax havens.
Two of the assailents were arrested in mainland China, in Dongguan City of Guangdong Province, that stands just across from Hong Kong on the Chinese mainland.
Seven other suspects were detained in Hong Kong in connection with the case, according to a police statement.
"We suspect the assailants were hired and they have triad background," Commissioner of Police Tsang Wai-hung told reporters. Triads are organised criminal gangs operating in and around China.
"There's no evidence linking the attack to Lau's journalistic work, though the police aren't ruling out any motives," he added.
Hong Kong police are in negotiations with Chinese authorities for extradition of the two men arrested in China, according to Tsang.
'Attack on Press Freedom'
Lau was slashed by an attacker with a meat chopper as he got out of his car near a restaurant in Hong Kong's Sai Wan Ho. Subsequently, the attacker escaped with another man on a motorbike.
Lau is now in the hospital and is no longer in critical condition. However, it will take more than two years for the full recovery of the nerve damage to his legs, according to an article wrote by him in Ming Pao.
Thousands of people led by civil groups, who are concerned about eroding press freedom in the city state, protested on Hong Kong's streets on 2 March, demanding the police step up efforts to catch the attackers.
"We urge the government to solve the case as soon as possible, so journalists will regain confidence in the rule of law and not be intimidated by the threat of violence," Lau said in a video on the newspaper's website.
Lau added that he and his family do not have any personal or financial disputes, and the attack might be related to his former job at the newspaper.