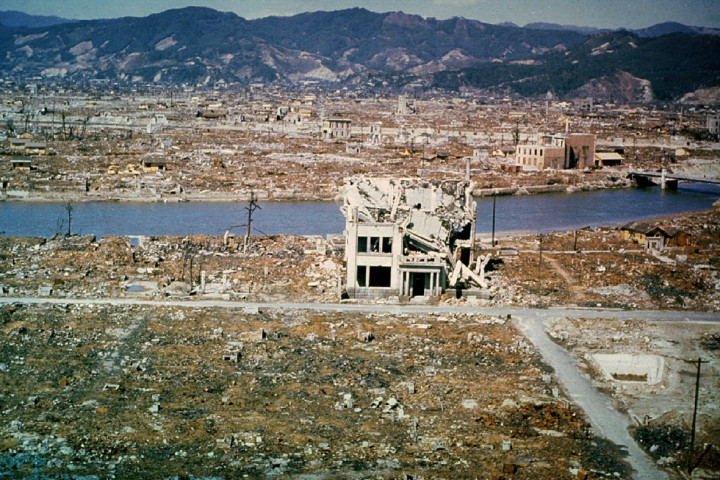 Tens of thousands of people attended a ceremony in the Japanese city of Hiroshima to mark the 70th anniversary of its bombing in World War II, the first time nuclear weapons were used in history.
Japanese Prime Minister Shinzo Abe was joined by delegates from over 100 countries in observing a moment's silence at 8.15am local time, the moment the atomic bomb was dropped on the city by a US aircraft.
The US ambassador to Japan, Caroline Kennedy, and the State Department's under secretary for arms control and international security, Rose Gottemoeller, were present at the ceremony.
"Today Hiroshima has been revived and has become a city of culture and prosperity," Prime Minister Abe was quoted as saying by the BBC in his address to the 55,000 people who attended the ceremony at Hiroshima's Peace Memorial Park.
"Seventy years on, I want to re-emphasise the necessity of world peace."
'Absolute evil'
The 16 kiloton atomic bomb, dropped by a B-29 bomber called the Enola Gay, exploded 600m (2000ft) above Hiroshima on 6 August 1945, levelling 13sq km (5sq miles) of the city.
About 70,000 people are thought to have been killed instantly from the explosion and up to 140,000 died by the end of that year.
Tens of thousands more of the city's inhabitants died in the following years due to the harrowing effects of radiation sickness, with the total death toll from the event now standing at over 290,000, according to The Guardian.
The bombing, and a second one in Nagasaki three days later, brought a swift end to World War II, but its use is still debated.
Hiroshima's mayor Kazumi Matsui called nuclear weapons an "absolute evil" that had to be abolished once and for all.
"To co-exist we must abolish the absolute evil and ultimate inhumanity that are nuclear weapons. Now is the time to start taking action," he was quoted as saying at the ceremony.
Japanese Foreign Minister Fumio Kishida, a native of Hiroshima, told CNN: "It is vital that we learn from the past to help ensure a more peaceful future.
"I truly believe that the goal of a world free of nuclear weapons is achievable and that we must pursue it."