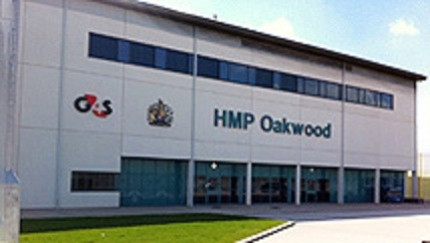 The biggest prison in Britain has been heavily criticised by inspectors for failing to provide basic hygiene needs and protection to its inmates.
A report by the HM Inspectorate of Prisons said that inmates at the G4S privately-run HMP Oakwood in Wolverhampton were continually unable to access hygiene products and received poor healthcare.
The inspection also found too many prisoners felt unsafe and indicators of levels of violence were high. One in seven inmates also said they had developed a drug problem while at the prison, dubbed "jokewood".
The report by the chief inspector of prisons Nick Hardwick says the amount of drug used at the 1,600 capacity prison was twice as high as similar jails, adding the inspectors were told on more than one occasion by prisoners that "you can get drugs here but not soap".
Measured against all four healthy prison tests - safety, respect, activity and resettlement - Oakwood was rated as either insufficient or poor.
Hardwick also said the inexperience of the staff was evident throughout the prison, and systems to support routine services were "creaky, if they existed at all".
Oakwood prison opened in April 2012 and holds category C prisoners. G4S has said it has already taken steps to improve conditions in the jail.
The security firm has already been heavily criticised for its shoddy handling of the London 2012 Olympics security contracts and has been referred to the Serious Fraud Office for overcharging the Government for tagging criminals.
The unannounced inspection took place last August. In July, HMP Oakwood was among three prisons which the government expressed "serious concerns" about due to Ministry of Justice ratings.
Hardwick said: "There is a lot to do before Oakwood is operating anywhere near effectively. Positively, the prison is an excellent facility. We found a management and staff team that were working hard and seemed keen to do the right thing.
"But the prison urgently needed a plan to retrieve the situation and there were real risks if matters were allowed to drift. Prisoner frustration needed to be addressed. Systems that delivered basic services had to be made to work."
Jerry Petherick, managing director for G4S Custodial and Detention Services, said the mobilisation of any prison is complex and the size of Oakwood made this even more acute.
He said: "As well as the logistical hurdles in new establishments, prisoners test the regime as well as the members of staff, who may be new to prison life.
"We have already taken steps to make improvements, appointing a dedicated task-force to address problem areas, such as the prevalence of drugs, while providing additional funding where necessary. This is starting to yield results."
Juliet Lyon, director of the Prison Reform Trust, said: "Slashing prison budgets while warehousing ever greater numbers overseen by largely inexperienced staff has come at a dangerous cost.
"This prison is not a model for the future but a warning."