Holi 2016: Where to celebrate Indian 'festival of colours' around the UK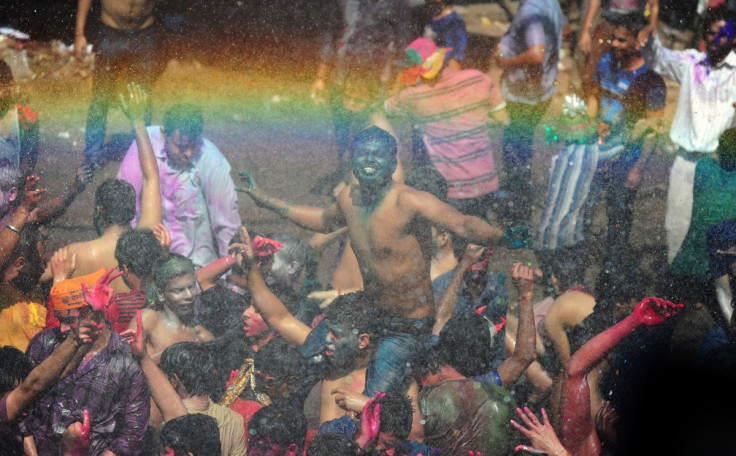 Holi is one of India's most popular festivals, signifying the beginning of spring and being marked on 23 March this year. Although the festival has its roots in Hinduism, it is widely celebrated by people of all faiths across India, as well as by Indians across the globe.
In recent years the festival has caught on in a big way among non-Indians as well, who have been drawn to the celebrations that see communities coming together in a big fun duel with coloured water and powdered paint. Festivities also include dancing and singing as revellers take to the streets to cover each other in different paint and water.
The festival is marked by a bank holiday in India, allowing people to indulge in day-long water fights. While Indians in the UK might not get the day off, a number of Holi events are taking place across the country during the week of the Hindu festival.
IBTimes UK rounds up some of the best events taking place in England, Wales and Scotland for Holi 2016.
London
London Desi Hangout's Holi
This event is taking place in the Heath Park Golf Club so it's bound to be a grand celebration. It is being organised by Shivoo, a group that frequently lays on events for the Indian community in London – "Shivoo" translates to "party" or "celebration". True to their name, their Holi event will also see a Bollywood DJ and dhol (Indian drum music), allowing you to immerse yourself into the celebration mood. Refreshments will also be provided.
When: 11am – 4pm on 20 March 2016
Where: Health Park Golf Club, Stockley Road, West Drayton, Middlesex UB7 9NA
Price: £15 (adults), £5 (children)
Visit the event website for more information.
---
Manchester
Indian Association celebrates Holi
Music, dance, arts and crafts, food stalls, entertainment and performances, and of course, Holi colours, are all part of this celebration in Manchester. While the event itself is free for all, dry colour powders will be sold at the venue at affordable prices and guests are urged not to bring their own supplies. The coloured water fight will take place from 1pm to 2pm, after which food and activity stalls will be the prominent feature. People can also contact the organisers to book stalls at the venue or volunteer to perform.
When: 1pm – 4pm, 20 March 2016
Where: Platt Fields Park, Fallowfield, Manchester M14 6LA
Entry: Free
Visit the event website for more information.
---
Birmingham
Holi Rave
Last year this event saw hundreds of people coming together to mark the beginning of spring with a coloured water fight. This year, dhol players, glitter bombs, coloured powder, face painting, henna tattoos and a fancy dress competition points to another successful Holi celebration. Organisers are also putting on an 'Indian Street Food Feast, which promises to showcase the best of Indian street food from the Midlands.
When: 26 – 27 March 2016
Where: Digbeth Gardens, Birmingham B12 OLD, West Midlands
Price: £11 (children), £40 - £50 (family), £165 (10 people)
Visit the event website for more information.
---
Scotland
Aberdeen Holi Mela 2016
This event is so popular that online tickets are already sold out, with limited tickets remaining on the door. Organised by the Indian Association of North East Scotland, this Holi celebration has something for people of all ages and nationalities with colours, music, Indian food stalls, DJs and a bouncy castle.
When: 12pm on 3 April 2016
Where: Ashdale Hall, Westhill Drive, Aberdeen AB32 6FY
Price: Online tickets sold out but limited tickets available on the door for £5.
Visit the event Facebook page for more information.
---
Leicester
De Montfort University Holi celebrations for charity
De Montfort's Indian Society is hosting a Holi event alongside the University's Square Mile India group to raise money for their work in the Indian state of Gujarat. Money raised from the event will go towards paying for books, medicine, games and sports equipment at a children's home for youngsters whose families come from the slums of Ahmedabad.
When: 3pm on 17 March 2016
Where: Bede Park, Western Blvd, Leicester
Price: First 400 bags of coloured powder are free, after which they will cost £1 each
Visit the event website for more information.
Maher Centre Holi Festival
Rather than hosting a coloured water fight, Leicester's Maher Centre is celebrating Holi with the traditional lighting of a bonfire. The Holi bonfire originates from the story of Prahlad, who was sentenced to death by burning by an angry king. Legend states that Prahlad prayed while he was on the fire and was saved by the will of God. The Holi bonfire, therefore, symbolises the triumph of good over evil and God's saving grace.
When: 5.30pm on 23 March 2016
Where: Maher Centre, 15 Ravensbridge Drive, Leicester LE4 0BZ
Price: Free
Visit the event website for more information.
Holi at Shree Sanatan Mandir
A temple in Leicester is hosting a Holi event for the community. They are also looking for volunteers to help run celebrations, for those who want to get more involved. If you're interested in helping out with the festivities, email your name, age and contact number to sanatanmandir1@gmail.com.
When: 5pm on 23 March 2016
Where: Cossington Street, Leicester LE4 6JD
Visit the event website for more information.
---
Cambridge
Cambourne Cultural Society Holi celebrations
The Cambourne Cultural Society is combining all the elements of Holi in one big celebration, including a coloured water fight and the symbolic bonfire. Face painting, henna and games are also being organised, and Indian food is promised to be one of the highlights.
When: 5pm on 19 March 2016
Where: The Hub, Cambourne, Cambridge CB23 6GW
Price: £10 - £12 (adults), £5 - £6 (children), free (under 5), £15 (family ticket)
Visit the event website for more information.
---
Cardiff
The Colour Festival
For those who still think it's a bit too cold for a water fight at this time of year, the Colour Festival in June could be for you. Although this event is only open to those over 18, partygoers can expect their "most incredible line-up to date" and thousands of others playing Holi alongside them at the Splott Warehouse. The first release of tickets has already sold out, so those interested are urged to reserve their places soon.
When: 2pm on 4 June 2016
Where: Splott Market Trading, Titan Road, Splott Market, Cardiff CF24 5LB
Price: £20 – £70
Visit the event website for more information.
© Copyright IBTimes 2023. All rights reserved.