French President François Hollande wants to further extend the state of emergency in the country, imposed after the deadly Paris attacks a year ago, to until the upcoming presidential elections in April-May 2017. He has warned against fragmentation and division amid growing security threats.
France recently marked the first anniversary of the 13 November, 2015 Paris attacks that killed scores of people. The country was hit with another terror attack in July when a truck rammed into the Bastille Day celebrations crowd in Nice, killing more than 80 people.
The state of emergency was extended for another six months following the Nice attack, responsibility for which was claimed by Islamic State (Isis). The emergency was due to be lifted in January 2017, but both the President and Prime Minister Manuel Valls have said they are seeking to prolong it until May 2017.
Valls reportedly said on Tuesday (15 November) that his government was going to ask parliament to push the state of emergency beyond the January deadline.
Later, in an interview to France 24 and its affiliates RFI and TV5 Monde, Hollande confirmed the move. He also highlighted the many threats France is facing today and urged the citizens to remain united.
"If France divides itself, if France fragments itself, if France disunites at a moment when it has to face so many threats, when it has so many assets and such a role to play ... it will deteriorate," he reportedly said on Tuesday on the sidelines of the COP22 UN Climate Change Conference in Marrakesh, Morocco.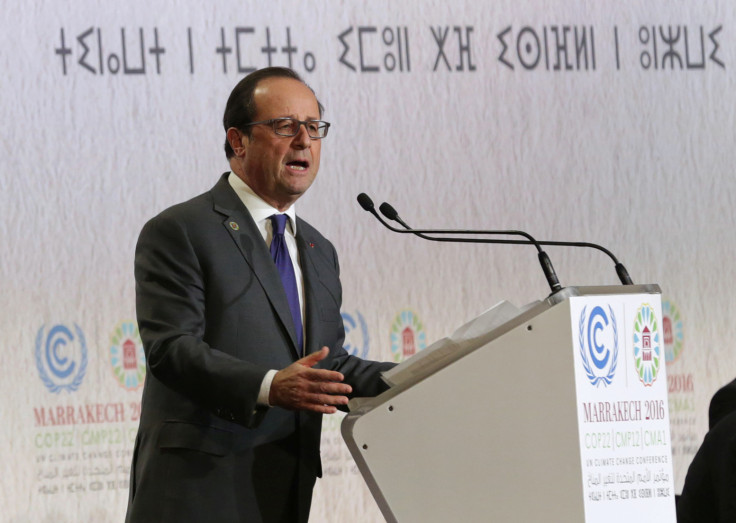 On the upcoming presidential elections, he declined to reveal if he would seek re-election. Hollande is reportedly the least popular French leader in recent history, according to the latest opinion poll that saw his approval rating at 11% in early November.
On the recent US presidential election, Hollande said that many developed countries have now become "protectionist and isolationist", including France. He added that both the US presidential election outcome and the Brexit outcome in the UK showed global trends of populism.
However, he said that France will remain open to the outside world. "We must provide a future for our country that is not closed, but open based on our strengths, because it is in our interest, and in the interest of France to play our role in the world, and to have our companies gaining markets and exporting throughout the world," he said.
"I don't want a weak economy. When you have a weak economy, you can't have strong diplomacy," he added.
On French-US ties under the US President-elect Donald Trump, Hollande said: "There was one specific point we discussed, and that was that fighting terrorism should be our shared objective.
"From that point of view the United States has always been our ally and our partner, and that will continue," he told France 24.