The last survivor of the Nazi extermination camp Treblinka has died in Israel at the age of 93. Samuel Willenberg was one of just 67 known survivors of around 900,000 people taken to the camp to be executed by the Nazi regime – only Auschwitz had a higher death count.
Willenberg died before his final wish, to see the construction of a museum at Treblinka. The camp was destroyed in 1943 and now only some small stones mark the site of the camp. Willenberg's great dream was to establish a museum at the site, designed by his daughter Orit, who is an internationally acclaimed architect. "The world cannot forget Treblinka," he said in 2010.
Unlike the Nazi's concentration camps – including Auschwitz – Treblinka was not built to hold prisoners. It was specifically designed to carry out the industrialised murder of Jews and other political prisoners of the Nazis. Between 700,000-900,000 Jews were killed at the camp – more than any other site during World War Two – along with 2,000 Romani gypsies.
Willenberg was taken to the Nazi German camp in occupied Poland in 1942, aged just 19. He was not taken to the gas chambers because he told guards he was a builder. A fellow captive had advised him to tell guards he had a trade when asked, as prisoners who could help maintain the camp or make luxury goods for the guards were spared. The remaining prisoners were sent directly to gas chambers.
Willenberg was given the job of sorting through the belongings of people who had been sent to their death. It was here that he discovered his sisters had been killed after finding their belongings among the pile of personal property he was working on.
Escaping the death camp
In 1943, Willenberg took part in an escape that saw 200 prisoners revolt against guards and flee the camp. After stealing weapons and setting the camp on fire, they fled into nearby woods, though most were shot and killed by Nazi troops, or captured by Polish villagers. Some 67 of them managed to escape, including Willenberg, aged 20 at the time, who was shot in the leg as he fled past the corpses of his fellow prisoners in the camp.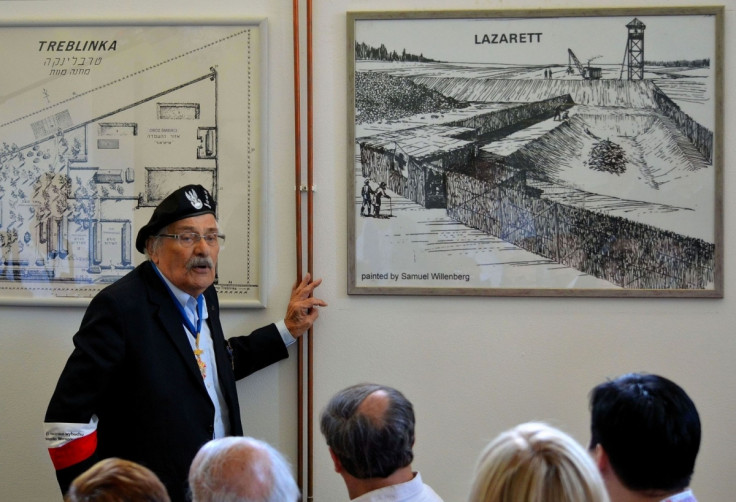 Following his escape, Willenberg joined the Polish army. In 1950, he moved to Israel where he married wife Ada, also a Holocaust survivor.
In Israel, he worked as a surveyor and drew an exact diagram of the camp for use by current and future Holocaust historians. The book he wrote about his experiences, Revolt in Treblinka, has been translated into eight languages. One of his sculptures was also placed in the garden of the President's Residence in Jerusalem.
"I live two lives, one is here and now and the other is what happened there," he said. "It never leaves me. It stays in my head. It goes with me always." Willenberg re-visited Treblinka on numerous occasions, leaving his home in Israel to take youth groups to the site and explain the horrors that happened there.
Willenberg is survived by his daughter and three grandchildren.
NOTE:
- The headline on this article was amended to correct reference to Treblinka as a Polish extermination camp.