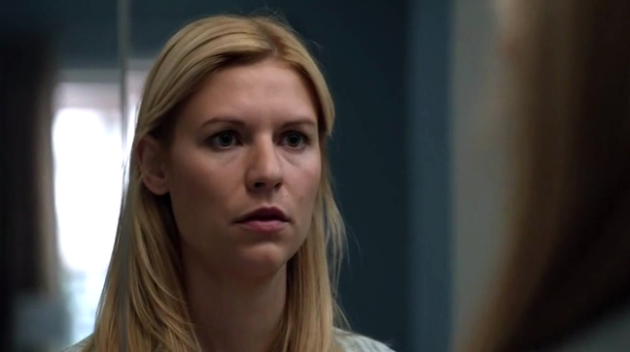 Following on from the twist at the end of previous episode of Homeland, it seemed that Carrie's (Claire Danes) role in the CIA story was finally going to begin and we were going to see the intelligence operative back to her very best. This didn't happen in The Yoga Play, which was somewhat of a false start that wasted most of its time rounding off Dana's (Morgan Saylor) under thought storyline, before a dramatic conclusion which looks set to finally put the wheels of this series in motion.
Going Hunting
Saul (Mandy Patinkin) seems happy to "dangle" Carry out to Javadi (Shaun Toub) to snap up, which I guess makes running the CIA more akin to fishing that hunting. Not that Senator Lockheart (Tracy Letts) would understand. On a macho all-male hunting trip in which Saul expected to hear of his appointment as permanent CIA director, he is instead informed by a boastful Lockhart that he instead will soon be in the hot seat. Lockhart has no time for dedicated officers working out in the field like Carrie, telling Saul to tow the line before taking aim at an overhead goose. In one overly metaphorical moment, Saul's espionage plan with Carrie is shot down.
But the bearded grump still has two weeks to see his ploy through, and so Carrie is given orders to lay low and make sure she is brought in to Javadi's net. Seeing as it's Carrie, this is obviously disobeyed. In what has to be Homeland's most artificially constructed scene yet, Jessica (Morena Baccarin) inexplicably arrives at her house to say her fears over the wellbeing of Dana. Even I can't work out why Carrie would help here. She talks about the value of Dana as a potential outlet to Brody, but seeing as she's sacrificed so much in being humiliated in front of a select committee and imprisoned for weeks in a mental institution, to now jeopardise all that through these extra-curricular efforts to locate Dana strikes me as both ridiculously reckless and out of character.
Dana Returns Home
At least it finally brought an end to Dana's lazily plotted storyline. Carrie's work leads to the disappearance of the two conveniently being reported on the news just as runaway Dana is in the vicinity of a TV. She's upset not so much by Leo's (Sam Underwood) suicidal tendencies as the fact he lied to her, and immediately flees back home distraught. Not before the two almost end up in a deadly car accident. You'd think that she would have learned from last season that getting in a car with an unstable boyfriend at the wheel often results in tragic consequences.
Is this all meant to serve a lesson to Dana that people other than her dad can lie? Where will her story go on from here? Most importantly, how much longer will she stand her mother gawking at her down the corridor every time she wants to seek solace in her bedroom?
Carrie's sidestep to save Dana appears to have killed off her connection to Javadi, until three nightmarishly omnipotent men abduct her in the middle of the night and take her to the Iranian terrorist. The alarm bells were ringing from the start of this season when Iran was mentioned as the main threat (didn't Argo do enough diplomatic damage last year?) and now we've got once again the absurd set-up where Javadi has managed to smuggle himself in to the country with apparent ease. Maybe having the two face to face will finally reveal what's going on.
Previous Episodes
Episode 3 Review - Tower of David
Episode 2 Review - Uh... Oh... Ah...