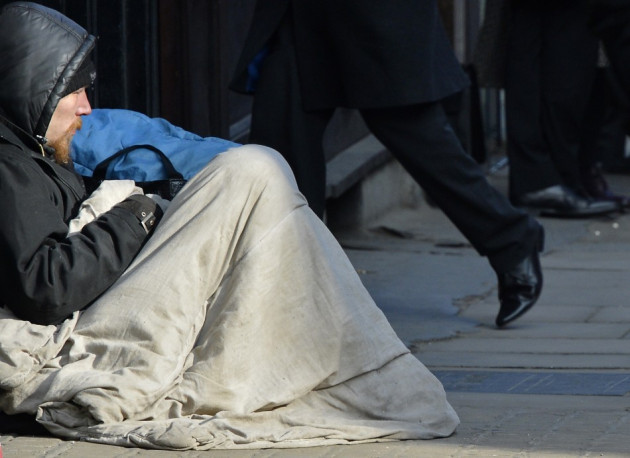 A study has shown that homeless men who are heavy drinkers suffer 400 times more head injuries than the general population.
Researchers at St Michael's Hospital in Toronto, Canada, said they were stunned at the magnitude of head injuries suffered by those who are chronically homeless.
Tomislav Svoboda, a doctor from the hospital, said: "We were shocked by the number of head injuries. In medicine, we worry when something occurs two or three times more often in a particular patient group, but to talk about magnitudes of 300 or 400 is unheard of."
The findings, based on emergency department records over five years, showed that homeless men who abuse alcohol have 170 times more severe head injuries and 300 times more injuries that cause bleeding to the brain, compared with the general population.
Researchers also determined that the length of time between injuries grew shorter as the number increased - the average interval between injuries was 231 days, which decreased by 11.8 days after every head injury.
Svoboda said: "We need to do something for this group--we're seeing data that suggests they are in a downward spiral.
"We need to develop programs to understand and treat this serious and permanent problem. When the brain is injured, you can't fix it. We need to identify and support these people."
Factors that increased risk of head injury included having a seizure disorder, drug dependence and having had a head injury within the last year.
Attacks on homeless increasing
Previous studies have shown homeless people are at a greater risk of being assaulted or the victims of violence.
Research by the National Coalition for the Homeless from 2010 showed that in the US, the number of non-lethal attacks on homeless people had increased by 281% since 2002.
A study by the University of Sheffield also found that homeless people in England die, on average, 30 years younger than the national average.
Svoboda said his study suggests head injuries result in physical changes, such as memory loss, dizziness, brain damage and mental health problems, which in turn increase the risk of further injuries.
They also looked at the general homeless population and those who are vulnerably housed, meaning they live in crowded, unsafe or unaffordable homes. Research showed this group suffered 23 times the number of head injuries as the general population.
Svoboda said to help combat the problem, one solution could be to do more CT scans on people identified being at a higher risk of injury.