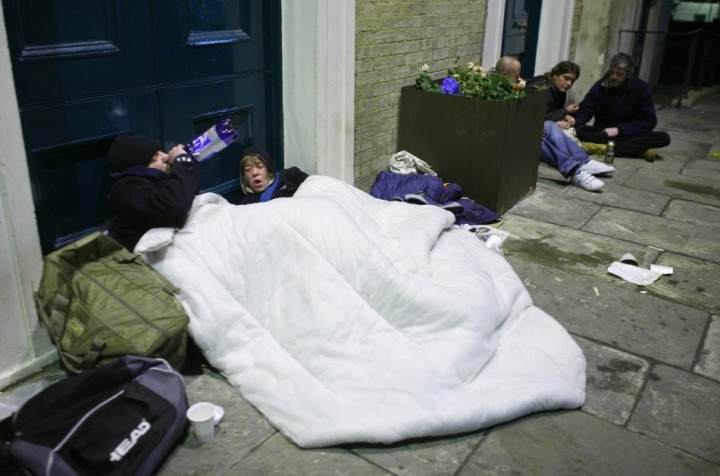 Homeowners in the London borough of Barking and Dagenham face the highest risk of repossession, a charity warns.
Research compiled by homeless charity Shelter has identified the London borough as the area in England in which people have the greatest risk of losing their homes, followed by Knowsley and Rossendale in northwest England, Thurrock in the east and the London borough of Lewisham.
Shelter warns of the constantly increasing risk of home loss in the UK, as homeowners struggle to balance their budgets.
"Most people think that repossession will never happen to them, but rising unemployment, high living costs and even higher house prices mean that many people are living close to the edge already and risk falling into a spiral of debt and repossession," said Campbell Robb, chief executive of Shelter.
For its research, the charity analysed data from the Ministry of Justice for the financial year 2011/12 on rates of claims leading to possession orders per 1,000 households across every every authority in England, which were then ranked.
According to the findings, repossession rates varied greatly across the country, with Barking and Dagenham having a rate of 8.44 per 1,000 homes, almost eight times that of Dorset, which had the lowest rate of 1.06 per 1,000.
Once the results were put on to a map, clusters appeared in high-risk areas. These were: Durham and Tyneside; the West Midlands conurbation; Northampton, Wellington and Milton Keynes; South Holland, Peterborough and Fenland; East London and the Thames Estuary, as well as a "red band" stretching across the North from the Mersey to the Humber.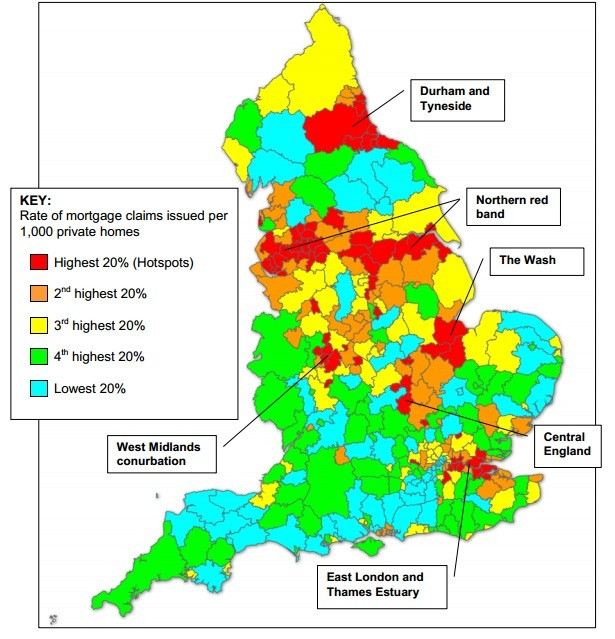 The research identified a strong link between unemployment and repossession. Although the unemployment rate in the UK fell to 8.2 percent in March, the number of people in full-time employment continues to drop.
The average rate of unemployment in areas with the highest numbers of repossessions were 10.4 percent, compared to a rate of 5.5 percent in areas with the lowest numbers.
"The journey from being a homeowner to becoming homeless can be frighteningly swift, with just one small thing like a wage cut, a health problem or a job loss meaning that a family can no longer meet their mortgage payments," Robb said.
"When repossession happens, the impact on families is devastating - research shows people think repossession is worse than having to fight a child custody battle.
"Housing is the largest monthly cost for many homeowners, yet the affordability of housing is not getting the same government attention as the monthly costs of other essentials, such as food or energy bills."