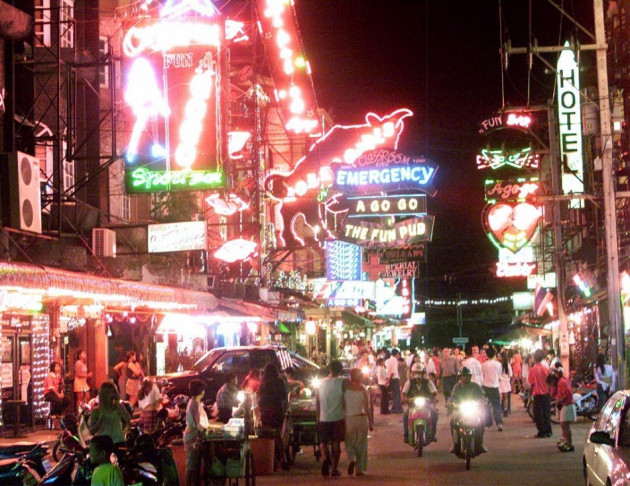 A growing number of Westerners are being forced to sleep rough on the streets of Thailand, many after succumbing to the ravages of alcoholism or being conned by bar girls.
The Issarachon Foundation, a homelessness charity based in Bangkok, recently estimated that there could be as many as 200 western foreigners living rough across Thailand, along with 30,000 Thais.
The charity believes that while more than 40% of homeless Thais have mental health problems, most of the westerners have drink problems.
"We are starting to see more and more homeless foreigners, many of whom have separated from their Thai wives and now have no money," Natee Saravari, secretary-general of the Issarachon Foundation told Time. "They walk or sit in shopping malls during the daytime and scavenge through garbage for food at night."
Fines of up to 20,000 baht (£400) can be imposed on visitors without an up-to-date visa in Thailand, and many penniless foreigners are unable to pay. Desperate to avoid being jailed, they sleep rough.
It is estimated that many may also face legal problems barring them from travel. Bruno Min, the direct assistance co-ordinator for Fair Trials, said foreigners facing charges abroad "are often subject to a travel ban for lengthy periods, leaving them stranded in a foreign country, with few sources of basic financial and welfare support, and very vulnerable to destitution".
"The problem is worse now than it was 10 years ago," said Lieutenant-Colonel Vasu Sangsuksai, Tourist Police deputy for central Thailand. He called on foreign consulates to do more to help their down-and-out ex-pats. "Many times I speak to embassies and they say that they can't do anything," he said.
Paul Garrigan, 44, spent years "drinking himself to death" in Thailand before getting sober and wrote a book entitled Dead Drunk about the alcoholism many ex-pats in the southeast Asian country fall into.
Declaring himself unsurprised by the growing number of homeless westerners there, he told The Independent: "I'd been living in Saudi Arabia where I worked a nurse but I've been an alcoholic since my teens and, after a holiday to Thailand in 2001, I decided I may as well drink myself to death on a beautiful island in Thailand. Like many people I taught English at a school but spent much of my time on islands such as Ko Samui where I could start drinking early in the morning and not be judged.
"I was very lucky I put myself on the straight and narrow before I became homeless myself. Many others don't."
He said that many felt unable to call relatives at home and ask for help. "It can be very hard to admit to family back home - if you have any - that your dream life in Thailand has gone wrong or that your heart has been broken and that you are desperate to come home," he said.
Rhys Bonney, a visa consultant based in the northern city of Chiang Mai, said western men looking for romance with Thai women are often seen as easy targets for fraud. Some are persuaded that it is legally easier for them as foreigners to buy a car in their girlfriend's name. "The reality is that there's no difficulty to do it in their own [name]," explained Bonney. They then buy properties in the belief that everything they own will be shared equally, but no documents are signed to that effect. "And when they've paid the money the girlfriend can just kick them out," Bonney adds.
The sight of westerners, or 'farang' as they are known, sleeping rough is shocking to many Thais, who normally regard them as affluent.
Recently, the Bangkok Post interviewed a 61-year-old American called Sylvester living homeless in Pattaya, a seaside town famed for its red light district. In 2009 he fell for a bar girl or prostitute and bought a truck and car in her name with his savings before she dumped him, leaving him penniless. "On the beach, I have friends who are homeless Thais," he said. "We share food, cigarettes and some alcoholic drinks."