Hong Kong Airport flight services have been resumed. Airport authorities are trying to figure out how to manage the two-day flight backlog that they are facing. Normalcy was regained only after an interim injunction was passed by the court allowing the airport authorities to take action against anti-government demonstrators protesting at the terminal.
Hundreds of arriving and departing flights had to be cancelled on Monday and Tuesday due to pro-democracy demonstrators occupying the airport. Amid the threat of action being taken against the demonstrators, protests continued for two days. Around 300 flights were cancelled and passengers left stranded at the airport.
However, the protest finally reached point break on Tuesday night. Suspecting a Chinese man to be undercover police personnel, the protesters detained him. The protesters also detained a Chinese journalist.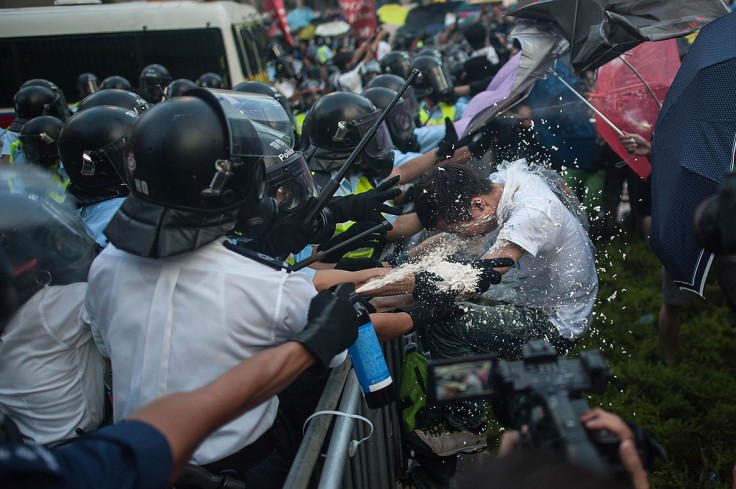 To rescue the two men from the protesters, the police used force to disperse the mob. Tear gas was the primary weapon used to clear the terminal. The police also resorted to physical violence as batons struck down fleeing protesters. There are also reports of an officer drawing his gun while pinning an unarmed woman to the ground.
Police proceeded to make multiple arrests and freed the two detained men. Airport authorities were able to re-schedule flights after the terminal was vacated. Airport authorities were also able to get a court to permit the removal of unruly protesters. Some demonstrators did return to the airport on Wednesday.
It is unclear if the police will take action against demonstrators if they choose to demonstrate in the terminal. Airport authorities have created a designated zone where they have requested the protesters to stick to if they want to avoid being removed forcefully.
Since Beijing authorities deemed the protests as "signs of terrorism" it was only a matter of time till the police intervened. The mandate of protesting in designated zones are being followed but tension remains high. While the Chinese government has placed forces at the Hong Kong border, any push from the protestors could instigate a violent backlash from the Chinese forces.
Hong Kong's chief executive Carrie Lam, in a press conference, requested the protesters to remain calm and maintain law and order. Hong Kong native Jackie Chan also made pro-Beijing statements asking the protestors to cooperate with the Chinese government.