The Beijing-backed Hong Kong Chief Executive, Leung Chun-ying, has rubbished speculation over deployment of Chinese troops to quell the pro-democracy protests as nothing more than rumours.
As tensions are rising in the former British colony in the wake of protests by Occupy Central campaigners and students, there were reports suggesting soldiers from China's People's Liberation Army could be mobilised.
The protesters are demanding that China withdraw its proposal to implement political reforms in Hong Kong.
Denying the deployment reports, Leung, who is said to be extremely unpopular in Hong Kong, stated: "I hope the public will keep calm. Don't be misled by the rumours. Police will strive to maintain social order, including ensuring smooth traffic and ensuring the public safety. When they carry out their duties, they will use their maximum discretion."
Meanwhile, the protests continue to swell in the streets of Hong Kong as more and more pro-democracy campaigners defy tear gas fired by the riot police.
Ahead of the Monday rush-hour, the police have appealed to the activists to "stay calm, stop charging police cordon lines and occupying the main roads".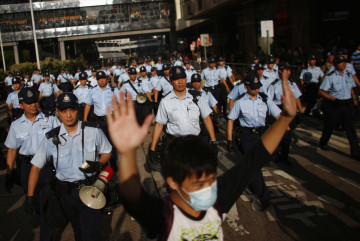 Despite repeated police warnings that such demonstrations are illegal, thousands of protesters are camped out near key state buildings including in a busy highway next to the government headquarters.
Scores of young demonstrators continue to gather and form blockades in places like Admiralty, Central, Causeway Bay and Mongkok.
Though the situation is reported to be largely calm, minor skirmishes have taken place in some parts.
At least 200 buses have either been diverted or suspended and subway transportation has been disrupted.
Schools in Wan Chai and the western districts have been shut down owing to the protests.