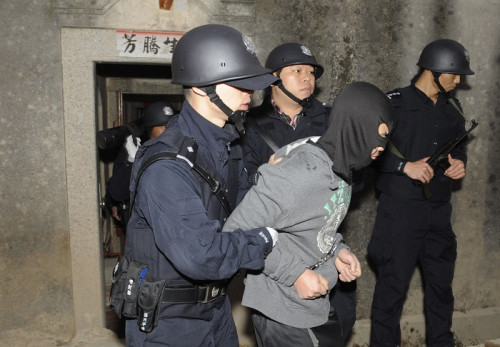 Police in Hong Kong have raided seven public toilets used as brothels as part of a crackdown on the Triad criminal gangs.
Authorities made dozens of arrests and closed down the brothels on the second floor of a shopping mall, according to the South China Morning Post.
During the raids, police found women living and working in cramped 150 square-foot brothels, some of which were converted empty shop and office spaces.
The prostitutes reportedly worked with regular customers, who had to give a secret code in order to gain entry.
Police arrested 51 women and 35 men on suspicion of various offences including belonging to the Triad criminal organisation, drug trafficking, extortion, breach of conditions of stay and operating illegal gambling establishments.
Officers also seized weapons and a small amount of a drug suspected to be ketamine during the raids. Two suspects climbed out of the windows from two seventh-floor brothels in an attempt to avoid arrest but were caught when they accidentally fell on to a third-floor canopy.
Chief inspector Law Kwok-hoi told the South China Morning Post: "I think it is the first time police have discovered public toilets have been turned into brothels.
"An initial investigation showed up to 100 customers visited the seven brothels a day. Each client was charged HK$250 (£19) for sex services but the gang took HK$100."
The raids are the culmination of a nine-month undercover operation and police believe the brothels have been running for ten months.
Prostitution is legal in Hong Kong but it is a criminal offence to solicit and live off the earnings of prostitutes.