Hong Kong Protesters Defy Deadline but Numbers Dwindle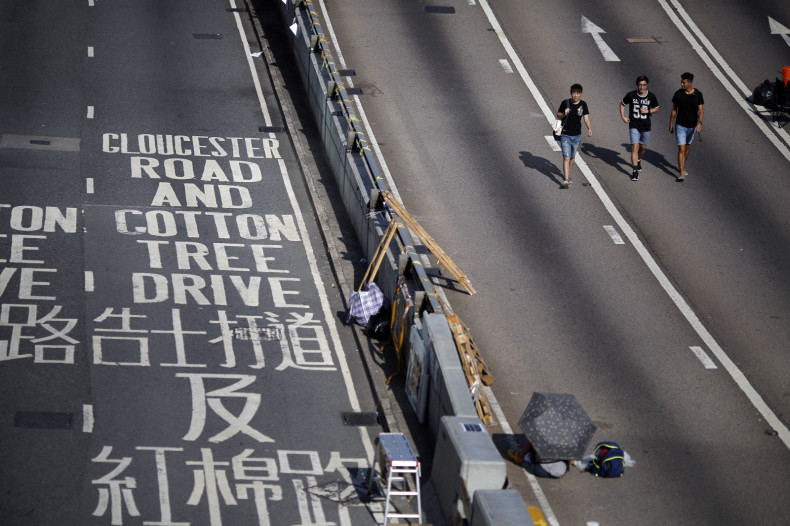 Hundreds of pro-democracy activists continue to defy the Hong Kong government despite the expiry of the deadline but the number of demonstrators dwindled on Monday morning allowing civil servants to get back to work.
Staff members at the government's headquarters which houses Chief Executive Leung Chun-ying have returned to work. The building became a magnet for tens of thousands of student and Occupy protesters in the last week.
The number of protesters on the streets dropped from thousands to hundreds overnight as the government's deadline to clear the sit-ins expired. Though there was a constant fluctuation in the numbers, this is the lowest turnout in the week-long rallies.
Protest leaders are hopeful that the numbers will swell after a brief respite.
"People need rest, but they will come out again. It doesn't mean the movement is diminishing. Many people still support it," Alex Chow, a key student protest organiser, told reporters.
According to estimates by the South China Morning Post, there are about 170 protesters in Admiralty, a few dozens in Causeway Bay and up to 400 in Mong Kok.
Some of the barricades erected by the protesters have been removed by the demonstrators themselves in order facilitate government employees to proceed for work.
"The situation may probably evolve into a state beyond control, and will have serious consequences to public safety and social order," Leung warned earlier, adding that schools must be reopened.
The latest round of talks between student groups and the government yielded nothing but the protesters say they are ready to agree to further talks if the camps are not cleared by force.
"It's clear there is still discrepancy between the expectations from both parties towards the dialogue. If the government resorts to clearing the site or using force, there will be no way for dialogue," key activist and vice-secretary of the Hong Kong Federation of Students, Lester Shum, told a press conference.