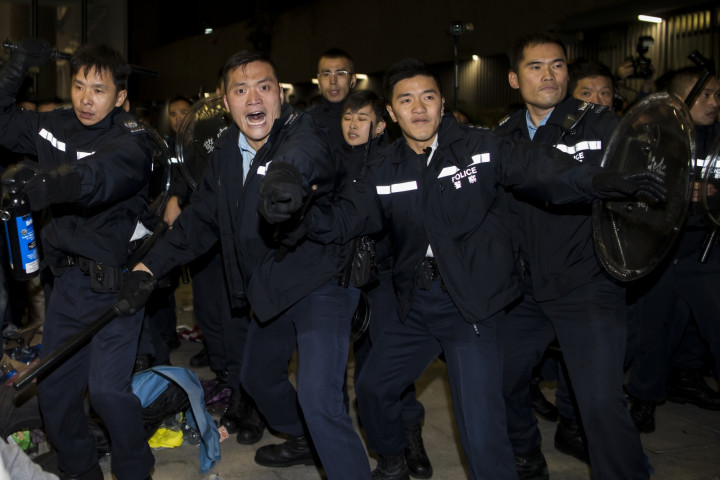 Clashes have broken out between police forces and pro-democracy protesters when a small group of demonstrators attempted to wade into Hong Kong's legislative council in Admiralty.
Immediately following the surprise scuffles outside Parliament, police personnel used pepper spray and batons on the protesters.
Violence flared up a day after police cleared protest sites in Admiralty following a court order.
Four people have been arrested over the latest violence.
The Occupy group, which is spearheading the anti-government protests in Hong Kong demanding greater political reforms, has condemned the incident and said the masked men were misguided.
A Public Works Subcommittee meeting that was scheduled to take place has also been suspended over the incident.
According to the South China Morning Post, the violent episode was triggered when a group of masked men, many of whom appeared to be teenagers, stormed the legislative council buildings and smashed the glass doors.
Scores of police officers were immediately rushed to the scene to contain the escalating situation after attempts made by officials failed. Tensions simmered when more protesters began to gather as police reinforcements also started to arrive.
"I'm not afraid to say that we already disagree with most political parties; it's just that we wanted to unite at first, but that'll change after last night. We may go our separate ways," 23-year-old protester Kuroros Li, who was part of the mob which stormed the parliament, was quoted as saying.
"Our aim is to attract Occupiers in Admiralty who still insist that peace can change everything, and not the people on the outside," he said.
"When the clearances started yesterday, they were extremely cooperative and even helped move their stuff away, which felt strange to me: why are you playing along with the government?"
Pro-democracy campaigners and student protesters have occupied key sites for nearly two months, calling for political reforms in the former British colony.