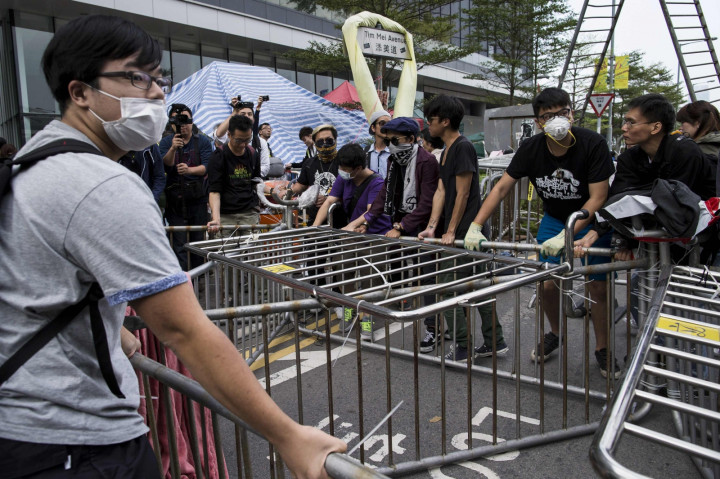 Protestors used stones and barricades to try to enter the main Hong Kong Government building.
Police wielded pepper spray in an attempt to stop the small group of demonstrators who broke into the city's legislature via a side door, as tensions built up after a period of calm.
The incident happened just hours after court bailiffs managed to clear part of a protest camp in the centre of Hong Kong city, which has been occupied by pro-democracy demonstrators for almost two months. The main protest site is reported to still be intact, according to a Reuters report.
It is the first time protestors have broken into a key public building, heightening fears that far from the pro-democracy movement being over, it may well be growing stronger.
Protesters try to storm breaking glass doors of main #HongKong Government building. #Occupycentral #Occupy #c4news pic.twitter.com/BiyQ7g3Bou

— raul gallego abellan (@raulgaab) November 18, 2014
A small group of protestors charged towards the city's legislature and used metal barricades and concrete tiles to shatter a glass side door. Several managed to get inside according to eye witnesses and a Reuters reporter.
Riot police with shields and helmets ran over, using pepper spray and batons to keep other demonstrators at bay.
Not all the protestors are in favour of the more confrontational minority in the movement. Fernando Cheung told Reuters that he and other protestors tried to stop the group from charging and entering the government building.
"This is a very, very isolated incident. I think it's very unfortunate and this is something we don't want to see happen because the movement so far has been very peaceful," said Cheung, who had blood stains on his shirt after the confrontation with the militant protestors.