Hong Kong: Violent Skirmishes Continue Between Police in Riot Gear and Protestors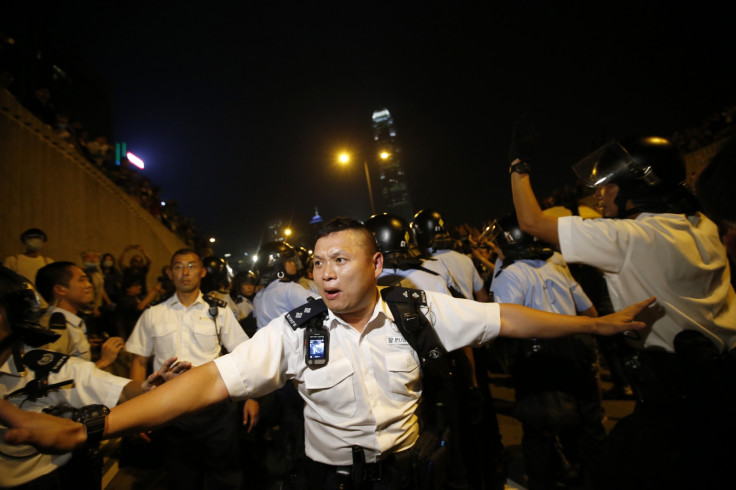 Hundreds of police in Hong Kong used pepper spray on pro-democracy protestors to move them out of a tunnel near the city government headquarters.
The officers ripped down barricades and concrete blocks around the underpass where demonstrators were hunkering down.
The crowds were gathering there after being moved on from other sections of the city.
At first, they outnumbered the police, who returned later in larger numbers clad in riot gear, brandishing batons and shields. They used pepper spray and wrestled demonstrators who resisted to the ground.
Live TV broadcasts showed footage of officers removing many protestors with their hands tied behind their backs in plastic cuffs. Others were forcibly removed to a park nearby.
Organisers of the protest say around 200,000 people congregated in the streets for peaceful sit-ins over the past weeks. However, the numbers have slowly been dwindling.
"Tomorrow morning will be critical, when many people go to work and then we'll have fewer people here," Fan Yiu-kam told the New York Times. "The strongest barricade is a lot of people, but we don't always have that."
HK Police use sledgehammers, chainsaws to clear protest barricades #OccupyCentral @AnarchoAnon #UmbrellaRevolution pic.twitter.com/qqIK4G0i5a

— JU (@JigmeUgen) October 14, 2014
Police and the authorities have been focusing on a clearance operation. This began on Tuesday morning when police used chainsaws and sledgehammers to tear down barricades on a road at the edge of the protest zone.
Activists fought back on Tuesday evening by barricading the tunnel with tires, metal barricades, water-filled plastic safety barriers and concrete slabs taken from drainage ditches.
They used the slabs to form the shape of an umbrella on the road.
China remained unmoved by the protests. Zhang Xiaoming, the head of the central Chinese government's liaison office in Hong Kong, said the movement had "provoked" the central Chinese government and engaged in "radical forms of street confrontation," the China News Service, an official news agency, reported.
"The best way to avoiding having all of Hong Kong's residents pay a steeper price" he was reported as saying, was to end the movement "as soon as possible."
© Copyright IBTimes 2023. All rights reserved.