Hong Kong Pro-Democracy Protests: Police Probe Triads' Role in Clashes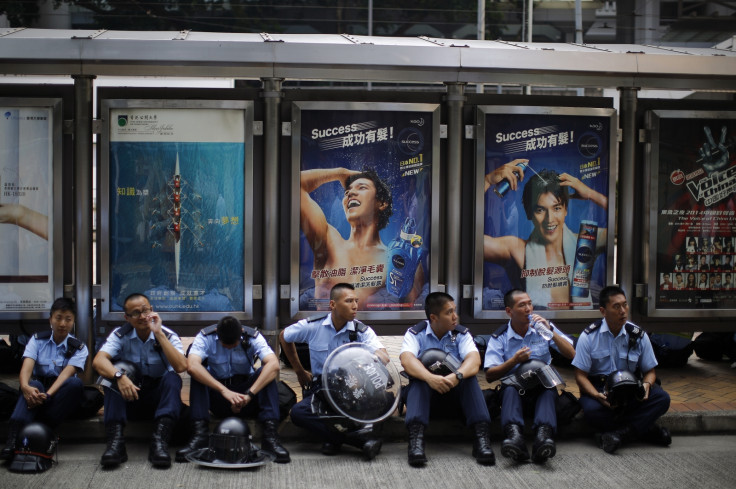 Hong Kong police are investigating the alleged involvement of triad gangsters in clashes between pro-democracy and pro-Beijing protesters.
Security sources said they believe up to 200 members of the local crime syndicates infiltrated both the student protest movement and the opposite camp demanding the end of unrest, sparking a violent confrontation in the Mong Kok district, earlier this month.
"They split into two groups, but most of them posed as supporters of Occupy students," a security source told the South China Morning Post.
"They stirred up trouble at different locations around the junction. As officers tried to stop the clashes, the gang, standing behind the students, hurled stones, hard objects and plastic water bottles. Some even punched our officers."
The investigation was launched after eight triad members were found to be among 47 arrested during Mong Kok clashes.
A mob of masked men, many suspected to be triad gangsters, attacked pro-democracy demonstrators in Hong Kong's financial district again this week.
"Before the police came, young men wearing masks and dark clothing came to pick fights with people and we heard that some of them had weapons," said Kevin Ng, a college student who was at the scene and saw the scuffles.
"I don't know who the young men wearing masks were. We suspect they're triad members, but it's hard to say. What other kind of group would organise themselves to come attack us?"
Detectives said it was not clear what the motives behind the triads' action were.
Local media suggested gangsters might have tried to bring pro-democracy protests to an end, as street unrest has affected their businesses, keeping clients away from Mahjong parlours and nightclubs.
Hong Kong's Organised Crime and Triad Bureau said it has deployed some 300 undercover officers to monitor the situation.
Meanwhile police have cleared more barricades set up in key business districts by demonstrators seeking democratic reform in the Chines territory.
"I'm feeling a bit lost. There is no dialogue with the government, and the truth is we are affecting people's lives. But we can't bear to leave without getting any results," said Mark Li, a 21-year-old college student.
Protests started last month after Beijing decided it was to screen candidates for the first election in the territory in 2017.
© Copyright IBTimes 2023. All rights reserved.