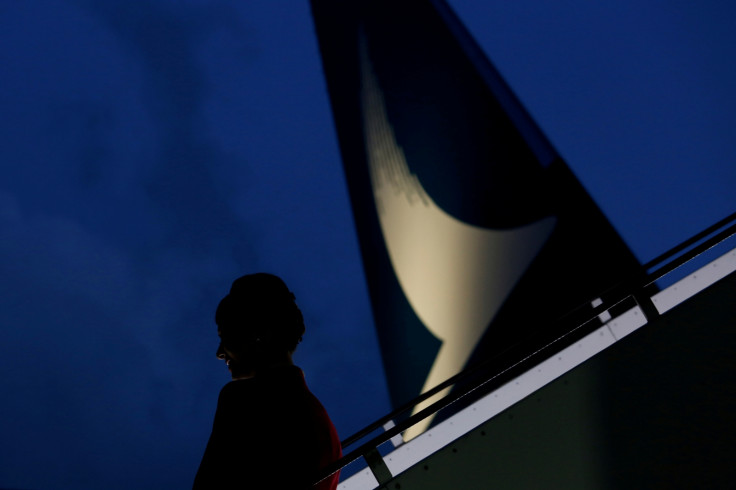 Hong Kong's flagship airline Cathay Pacific says it plans to cut 600 jobs after posting its first annual loss in eight years.
The job loss announcement is the biggest headcount reduction at the airline in almost two decades as it battles increased competition from Chinese and Middle Eastern airlines.
The company said in March that it had suffered a loss before tax of $74m (£57m) for 2016 compared to a profit of $773m a year earlier. It was the first loss posted by the airline since 2008 and only the third full-year loss in its history.
The Hong Kong carrier responded to the loss by announcing a three-year reorganisation drive through which it plans to reduce employee costs by 30%.
"We greatly appreciate and respect our people's dedication, hard work and achievements. However, we have had to make tough but necessary decisions for the future of our business and our customers," Cathay Pacific chief executive Rupert Hogg said in a statement.
"Changes in people's travel habits and what they expect from us, evolving competition and a challenging business outlook have created the need for significant change."
Around 190 management and 400 non-management roles will be cut at the company's headquarters in Hong Kong, representing 25% of management and 18% of non-management positions respectively.
All employees that are made redundant will receive a severance package including up to a year's salary, in addition to medical benefits and travel benefits.
The airline said it will also reorganise its cargo department by removing the role of cargo director.
"As we look to the future we will have a new structure that will make us leaner, faster and more responsive to our customers' needs. It is the first step in the transformation of our business," Hogg said.
"We want to invest in and improve the experience that we offer people in Hong Kong and around the world, to find new ways to give our customers what they really want and need."
Cathay Pacific shares rose nearly 4% in Hong Kong following the announcement.