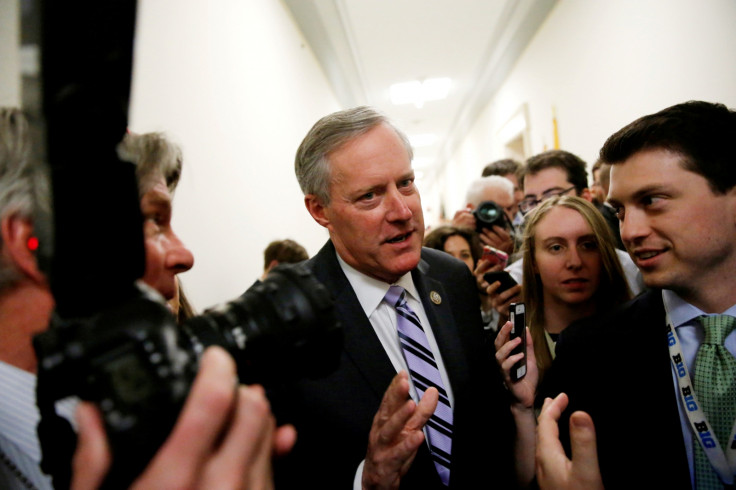 The chair of the House Freedom Caucus, a group of conservative US legislators who held up the Trump administration's attempts to repeal and replace the Affordable Care Act, also known as Obamacare, said that if offers made to the group by the White House appear, the majority would vote for it.
The suggestion could spell an end to the nightmare that healthcare legislation has wreaked upon the administration, with the first attempt ending in failure as the bill was pulled as it became clear there were not enough votes to pass it.
Asked about caucus meetings where Vice President Mike Pence was understood to have made offers about what the new legislation would look like, Freedom Caucus chair, Republican Mark Meadows said: "If those offers that were made over the last couple of days actually appear in a legislation, the majority – if not almost all – of the Freedom Caucus will vote for this bill."
Meadows was speaking at a Politico Live event in Washington DC on Thursday (6 April) morning along with fellow caucus members Jim Jordan and Justin Amash.
When pressed on what those offers would look like, Meadows stayed quiet only stating that some of the caucus's objectives included "making sure that preexisting issues continue to stay protected, making sure that healthcare is affordable." Lower insurance premiums, Meadows said, "has been, will be, always will be" the primary objective.
The lack of process was another gripe the three expressed – if the earlier bill had been properly vetted and not quickly pushed through, it may have passed. There was a reason why the bill polled at only 17%, Jordan said, "we didn't really have actual hearings... no amendments were accepted in the committee process – I think you had done all that you might have got a product that was better than 17% approval rating."
Jordan though later alluded to another part of the possible healthcare bill – planned parenthood. While speaking about what points the caucus might exercise their leverage on as a possible government shut-down looms, Jordan said that Planned Parenthood might not be one as it could be "dealt with" in the healthcare bill. "Planned Parenthood should have been dealt with a couple years ago... we think that's going to be dealt with in the healthcare bill." Jordan said.
Though the new bill might garner the support of the Freedom Caucus, the offers to the conservative group might alienate more moderate members of the US House of Representatives Republican party.