The speaker of the House of Lords said he had an "open mind" over whether to let US President Donald Trump address Parliament, adding that he had not been consulted by his Commons' counterpart on the matter.
After Commons' speaker John Bercow said he was "strongly opposed" to Donald Trump speaking at Westminster Hall during a state visit later this year, Lord Fowler said the houses needed to look at whether they should be stripped of the powers to veto foreign leaders from addressing the houses.
A government request to invite a speaker in the medieval chamber needs the agreement of Bercow and Lord Fowler. The Lord Great Chamberlain, hereditary Officer of State who represents the Queen, is also asked.
In a statement, Lord Fowler told peers: "The whole purpose is to seek consensus ensuring both Houses have the opportunity to consider a request.
"My view is that I will keep an open mind and consider any request from Mr Trump to address Parliament if and when it is made." Fowler said he had accepted an apology from Bercow for not consulting him.
Bercow said he opposed to Trump addressing the Houses of Parliament during his state visit to the UK due to Parliament's opposition to "racism and sexism", adding that speaking at Westminster Hall was not an "automatic right" but an "earned honour".
While his comments were praised by Labour and the Scottish National Party, critics said Bercow had stepped out of line, because, as speaker, he is required remain politically impartial.
A description of his post in the House of Commons information office states: "The Speaker must be above party political controversy and must be seen to be completely impartial in all public matters."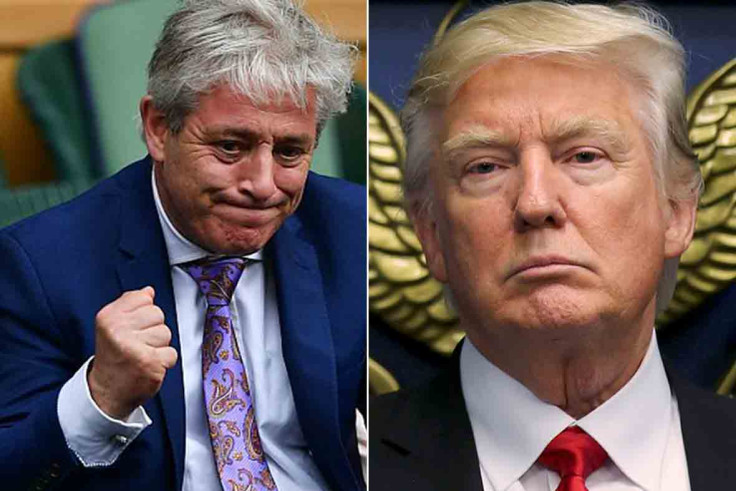 Bercow is the presiding officer of the Commons, a position which he has held since 2009. The speaker rules over the House's debates, deciding which members may speak.
Recent speakers at Westminster Hall include the Chinese President Xi Jinping in 2015. Colombian President Juan Manuel addressed Parliament in 2016 and German Chancellor Angela Merkel spoke in 2014. Barack Obama made a speech in 2011. Nelson Mandela addressed Westminster Hall in 1996.
It is an unprecedented move by the speaker and whether he alone has the power to block Trump from addressing both houses depends on a subtle interpretation of constitutional law.
The speaker said he would also be involved in any invitation to address Parliament's Royal Gallery, although he has less power to do so.
Addressing Parliament would be one of the highlights of Trump's state visit, which is due to take place in the summer. Parliament is set to hold a debate on calls to cancel the US President's state visit after 1.8 million people signed a petition in support of retracting the invitation.