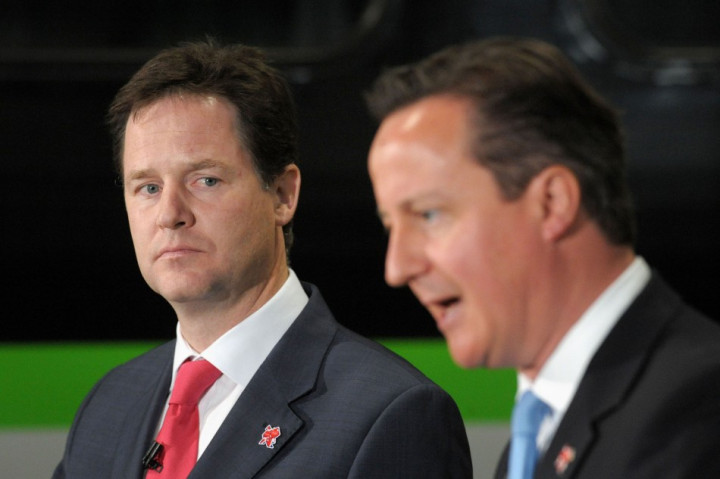 Nick Clegg has announced that he will be dropping proposed reforms of the House of Lords and revealed his frustration over the decision, which could cause serious cracks in the coalition.
Clearly frustrated that the Liberal Democrat-led reforms, which he believed his party were owed for the allowances they have made to support Tory policies, were blocked by Conservative backbenchers, Clegg revealed that the Lib Dems would do some blocking of their own.
He announced that he would instruct his party to block the Conservative's proposed boundary changes, which David Cameron hoped to have in place to guarantee as many as 20 more Tory seats at the 2015 election.
However, Clegg's announcement shows such levels of discord and spite within the partnership that the coalition's ability to remain united before the election is looking less likely.
Clegg said: "An elected House of Lords was part of the coalition agreement: a fundamental part of the contract that keeps the parties working together in the national interest.
"A contract not just to each other but a set of commitments we have made, collectively, to the British people.
"My party has held to that contract even when it meant voting for things that we found difficult. The Liberal Democrats are proving ourselves to be a mature and competent party of government and I am proud that we have met our obligations.
"But the Conservative party is not honouring the commitment to Lords reform and, as a result, part of our contract has now been broken."
Coalition works on mutual respect
Clegg said that he would not allow Tory rebels to pick and choose what they would agree with in the contract, while binding Lib Dems to abide by it.
He added: "Coalition works on mutual respect; it is a reciprocal arrangement, a two-way street. So I have told the prime minister that when, in due course, parliament votes on boundary changes for the 2015 election I will be instructing my party to oppose them."
Clegg's decision, which he said came about after Cameron explained that he had failed to convince his party rebels to agree with the reforms, could have far-reaching consequences for the coalition, with the two parties set to clash.
Ed Miliband's Labour party did not escape Clegg's ire. He said: "In my discussions with the Labour party leadership, they have made it clear that while they continue to back Lords reform in principle, they are set on blocking it in practice. Supporting the ends, but when push comes to shove, obstructing the means."
He criticised Labour for "allowing short-term political opportunism to thwart long-term democratic change".
He also claimed that he made a last-ditch attempt to keep the bargain intact, suggesting a referendum on Lords reform in 2015, with first elections to the Lords taking place in 2010. However this offer was not accepted.
No more rose garden
Clegg's announcement shows how far the coalition has come since the two leader's dewy-eyed "rose garden" press conference in 2010.
The deputy prime minister appears to have taken one slap-down too many from a Conservative party that seemed to hold the Lib-Dems up as a shield against negative press, while half-heartedly feigning support for Lib-Dem-backed policies.
Clegg was desperate for at least one big feather for the Lib-Dem cap before 2015 to avoid his party being destroyed at the polls. After playing along with the Tories on university fees and taking a very public tongue-lashing from his own party supporters, he was let down by the damp squib of electoral reform.
A reform of the House of Lords may well have been his last chance to stamp his party's mark on the country before 2015.
He said: "When the Liberal Democrats came into government, I knew that creating a democratic Lords would not be straightforward. This cause has been blocked by an establishment resistant to change and by the vested interests who benefit from maintaining the power of political patronage, while keeping the power of people out."
Although he described his decision as pushing the "pause" button on the Lords reforms, they are unlikely to survive without a major U-turn from his Conservative partners.
Coalition Future?
Clegg was keen to make it clear that his comments did not mean his party would split from the coalition.
He said: "My Liberal Democrat colleagues and I remain focused on the urgent task that brought the coalition together, rescuing, repairing and rebalancing our economy."
He went on to claim that he and his party were committed to a fairer tax system, progress on the environment, civil liberties and the aim "to build a fairer society".
"We will continue with that critical work. We will continue to anchor this government firmly in the centre ground," he said.
His closing rhetoric aside, Clegg appears to have set out his stall after having been denied one time too many. The Lib Dems would not be expected to walk away from the coalition before they gain at least one positive from its existence.
The loss of House of Lords reform and the resulting atmosphere of frustration and mistrust will make that job even harder.