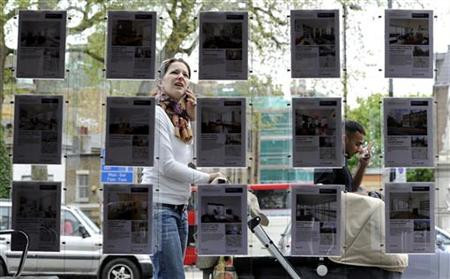 House prices are weakening further according to the Nationwide House Price Index which saw average asking prices fall 0.5 pct in July - following a series of data across the nation:
So far, Rightmove, Land Registry and Hometrack have all released showing a lack of demand holding back the market whilst today's news further reveals a house price inflation fall 6.6 pct from a high of 10.5 in April.
"The 0.5% house price drop in July reported by the Nationwide adds to a now steady stream of weak data and survey evidence on the housing market and further fuels our belief that house prices will fall back over the latter months of 2010 and very likely soften further in 2011." said Howard Archer, economist at IHS Global Insight.
The move, according to RBS, brings an end to cash-rich foreign buyers prevalent on the market, that kept inflation high over the last year.
"What is more surprising is the resilience of house price inflation against this inauspicious funding/income backdrop" said RBS economist, Ross Walker, "Suggesting the prevalence of cash-rich and/or foreign buyers on the market." he said earlier this year.
"At the moment, the market is clearly easing relative to the very tight supply conditions that characterised it since early 2009. However, it will take several more months to establish whether house prices are now simply oscillating around a flat price trend or whether a period of downward trending prices may be in store." said Chief Economist of Nationwide, Martin Gahbauer.
"Meanwhile, more properties have been coming on to the market for some time now, thereby moving the supply/demand balance more in favour of buyers." added Howard from IHS Global.
According to IHS Global, house prices are set to drop between 3-5 pct over the second half and 5-10 pct over the following years.