Like London, Hong Kong is in the grip of a housing crisis. But unlike London, Hong Kong doesn't have strict minimum space standards. That's why Swire Properties can develop a residential tower which offers studio flats that are just 142 square foot in size, or "saleable area" as it's called.
To put that in context, planning regulations in England demand that the minimum size for new properties intended for the occupancy of a single person is 398 sq ft, more than twice the size of Swire's studios. As the South China Morning Post notes, these studios are just 10 sq ft bigger than a standard private car parking space.
The tiny rental flats will be located at the Pacific Place shopping centre not far from the Wan Chai district of Hong Kong, an area known for its nightlife. Of the 120 homes, six will be studios and the rest one and two bedroom flats. But even these are small scale — the largest will be just 490 sq ft. The studios are estimated to fetch 12,780 Hong Kong dollars (£1,347, $1,647) a month in rent.
"We understand that a smart, efficient layout maximises space and possibilities," says the marketing website. "That's why Star Studios offers a range of thoughtful layout choices including studios, 1-bedroom, and 2-bedroom suites, ranging from 142 sq ft to 490 sq ft, all designed with fully-fitted kitchen and bathroom."
Swire has actually renovated two existing towers for its Star Studios project, in which homes of these size already existed, a spokeswoman for the firm said. The developer is just trying to make the most of the limited space available, and modernise them, before it puts them to market again to be rented.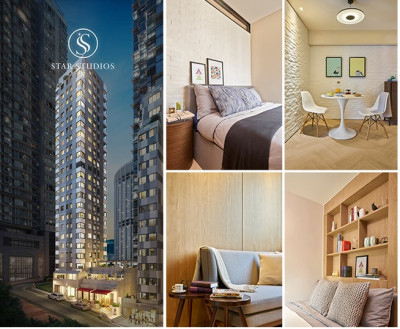 London is currently building around half the new units it needs a year to meet ever-growing demand. This shortage is driving up rents and house prices, reaching the limits of affordability for most people, and pushing beyond them for many.
Strict planning laws, greenbelt protections, and a lack of developable land are the root causes of London's housing shortage. But reforming planning and greenbelt rules is difficult because they are politically controversial issues, and other solutions may be necessary in the meantime.
Hong Kong is an extreme example. Swire's Stare Studios are of a high standard, even though they are small. It's Hong Kong's poorest residents who suffer most, forced to live in "subdivided" flats which are much smaller still — shockingly, reports suggest as low as 50 sq ft — and amount to little more than cramped box rooms.
But could relaxing minimum space standards a little be a way of easing London's housing problems by increasing densification in developments? "Hongkongers have to sacrifice their living quality as the sky-high property prices and rents have gone beyond the reach of the general public," Pang Shui Kee, managing director of SK Pang Surveyors, told the SCMP.
Should Londoners make the same sacrifice? Vote in our poll.