London is second in a league table of world cities with property markets most at risk of a bubble, according to the Swiss investment bank UBS.
The UBS Global Real Estate Bubble Index 2016 said London is second only to Vancouver, Canada, where house prices have rocketed in the past couple of years. UBS said Stockholm, Sydney, Munich and Hong Kong were also at "eminent" risk of a bubble.
A long-term shortage of supply in London, with housebuilding running at around half the level needed in the city, and intense demand from domestic homebuyers and overseas investors has driven up house prices well ahead of local incomes and values in the rest of the country.
"Ample financing liquidity and tight supply should be able to sustain the inflated prices for the time being," the report said of London's market, noting the Bank of England's move to cut its base rate in half to 0.25%, a new all-time-low, in the aftermath of June's vote for Brexit.
But the report also said the index and other benchmarks around the market and broader economy "point to the risk of a substantial price correction. A severe recession – which we do not expect – could halt the unsustainable price growth fueled by ample liquidity and tight supply."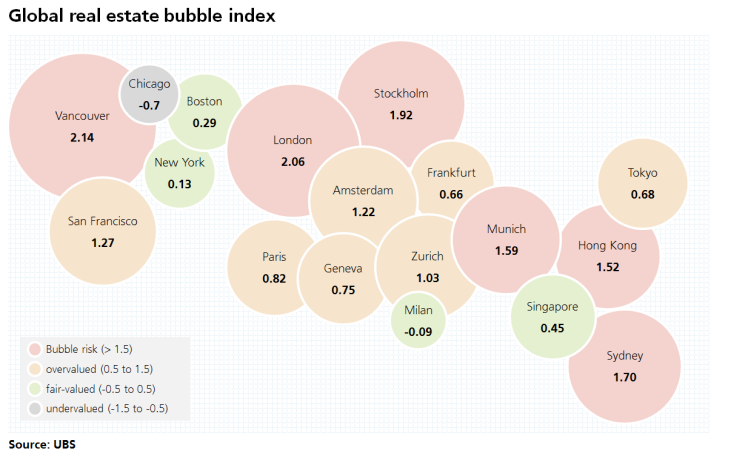 At the top of London's market, demand cooled amid a series of tax hikes, including stamp duty rises for expensive and additional homes, the uncertainty surrounding Brexit, and global economic turmoil, such as turbulence in commodity prices.
"High stamp duty rates for luxury properties and new stamp duty rates for buy-to-let have failed to cool down the broader housing market," said UBS.
"However, prices for the high end are stagnating, reflecting an end to the global boom for luxury properties. While buyers from overseas matter for the prime market, their overall impact on the housing market should not be overstated.
"The renewed GBP depreciation following the UK's vote to leave the EU may be seen as an entry point into the London market for international buyers. But we expect economic uncertainty and the ample supply of high-end developments to deter a renewed luxury boom."