Veganism is officially mainstream. No longer only associated with drum-circled hippies, it is a lifestyle adopted by A-list celebrities, social media influencers and seized upon by high street chains from Tesco to Nando's. But the stereotype of the diet being the preserve of a self-righteous, middle-class elite has been hard to shift, according to food writer Jack Monroe.
A committed vegan, Monroe is dedicated to transforming the perception that plant-based eating is expensive and unattainable for the average person. Monroe built a public profile with the blog and subsequent best-selling book A Girl Called Jack, by sharing the recipes she cooked while on benefits. Jack's name has become synonymous with delicious budget meals.
Monroe turned vegan in January 2015, likely contributing to the 360% spike in people following a plant-based lifestyle in the UK since 2006. "It was a gradual transition," Monroe told IBTimes UK. This process was triggered by her financial situation.
"When I found myself suddenly a single parent on benefits in 2011, I immediately cut down on the amount of meat I ate, as when you are very poor, meat is disproportionately expensive compared to other ingredients," she explained.
Animal cruelty also played a part in them ditching animal products entirely. "Mentally, I always struggled with the idea of factory farming and eating meat, but I would push it to the back of my mind. I am a thoroughly imperfect human by all standards, but I have one less thing to beat myself up about these days."
"I finally got to a point where I just felt that it wasn't necessary to include it in my diet any more. There were no gory social media posts, no graphic documentaries, just a quiet realisation, really."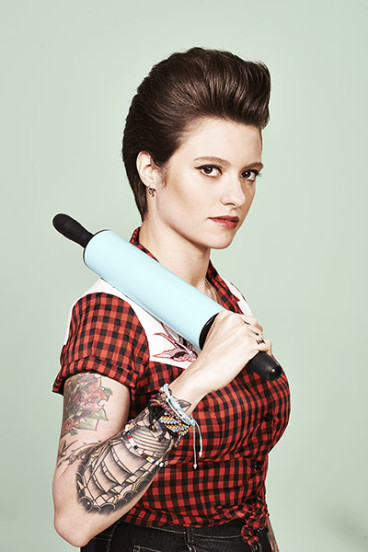 What Monroe discovered by crossing off meat from her grocery list was a versatile way of cooking that didn't need meat at its centre. "I started learning to cook with lentils and pulses, and as my confidence grew in the kitchen with previously unfamiliar – but very easy – ingredients my discomfort with eating meat products grew stronger."
"The general perception of veganism is that of a white, middle class hobby, and that can be frustrating," Monroe added.
In fact, many cultures have vegan diets, although this term might not be used. For instance the Ital diet, which stemmed from the Rastafarian faith, promotes fresh, plant-based, and unprocessed foods. Traditional Jain and Hindu diets are also largely vegan. Think of a hearty lentil dahl served with rice.
"Many communities across the world eat a vegan or mostly-vegan diet, some due to availability of ingredients, some due to religion or beliefs, but in the Western world it seems to be painted as a frivolous trend, which can be frustrating," said Monroe.
"There's not much 'elitism' in popping a tuppence handful of kidney beans in a mug of cold water to soak before you go to bed – it's hardly a night out at The Ivy!"
What is veganism?
Followers of a vegan diet don't eat any animal products. That includes meat, fish, as well as dairy products like cheese and milk.
Many vegans also cut honey from their diet because it is made by bees, although this is a point of contention for some.
But what about those who have been eschewing the meat and dairy aisles at the supermarket but are still alarmed by how expensive plant-based options are? Fake meats and cheese might be the problem, suggested Monroe.
While such products can make the psychological leap to adopting a plant-based diet easier, they also quickly add up. Mornoe's tip is to recreate the same flavours and textures one might enjoy in meat.
"I replace chorizo in recipes with a hefty dose of paprika and garlic, beef with black beans, chicken and pork with white beans, eggs with applesauce or a mashed banana, and go from there," said Monroe. "Coconut milk makes a delicious coffee, where rice or hemp milk are better in tea. Linda McCartney sausages are the favourite in this household for a casserole or bangers and mash."
As well as the financial burden of becoming a vegan, protein content is another common concern. However, as with any diet, with careful planning it is entirely possible to hit protein targets only just plant-based foods.
The British Nutrition Foundation advises adults to eat 0.75g of protein for each kilogram they weigh. Therefore, if a person weighs 70kg (11 stone), they should aim for 52.5g of protein a day. While the average chicken breast has 20g of protein per 100g, soybeans have 10g, and tofu has 8g. The rest can be totted up with vegetables and grains.
"Pulses and lentils are a staple in a vegan diet, and both are high in protein," said Monroe. "Tofu and mushrooms together are a great protein hit and make an excellent combo for a curry. Black bean chilli, green lentil lasagne, and easy fixes like adding a tin of beans to your lunchtime soup can all help. There are more varieties of beans and pulses on the shelves than meat products, so you won't be eating the same thing all the time."
Monroe added: "Build your meals around proteins first, add in the veg, and have carbs on the side if that's your thing."
Ultimate Lasagne recipe by Jack Monroe
Serves 6-8 from 40p each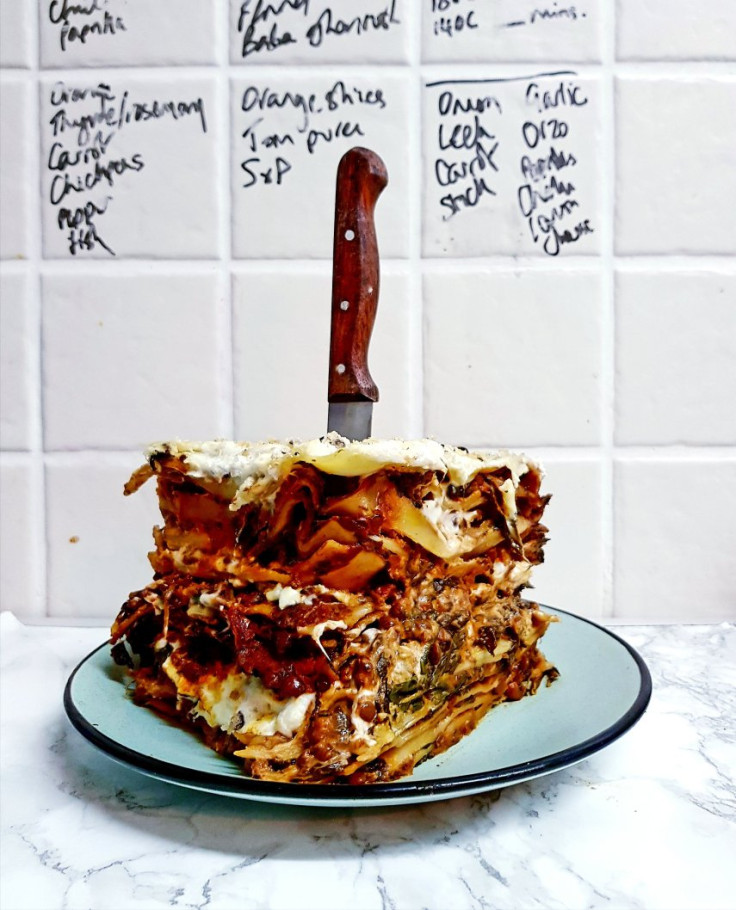 Ingredients
1 onion, 6p (90p/1.5kg)
6 cloves of garlic, 9p (35p/2 bulbs)
150g dried green or red lentils, 34p (£1.15/500g)
400g mushrooms, 85p (85p/400g)
100g spinach, kale or other greens , 13p(£1.30/1kg)
100ml red wine, 46p (£3.50/750ml)
400g chopped tomatoes, 35p (35p/400g)
1 tsp thyme, 4p (70p/15g fresh)
1 tbsp gravy granules, 3p (75p/170g)
1 packet lasagne sheets, 65p (65p/500g)
For the white sauce:
1 tbsp flour, 1p (55p/1.5kg)
1 tbsp oil or butter sub, 1p (£3/3l)
200ml cashew milk or other milk substitute, 20p (£1/1l)
½ tsp mustard, 1p (45p/180g)
2 tbsp breadcrumbs, 1p (£1.25/500g)
Method
First peel and very finely chop the onion and garlic. If you have a bullet blender, Magimix or small chopper, you might like to use it here. If you haven't, don't worry, it's simple enough to do by hand. Toss into a large pan (either a saucepan or a shallow frying pan will do) with the oil and salt, and bring to a medium heat for a few minutes.
Meanwhile, thoroughly rinse your lentils under a cold tap for a few minutes, and then add to the pan. Pour in the wine and tomatoes, add the herbs, and give it all a good stir before turning up the heat until it comes to the boil, then turn it down again to a medium simmer.
Finely chop the mushrooms into smithereens, almost a mince-like texture; this lasagne works best when its component parts are barely detectable, instead a mysterious homogeny of deep, earthy flavours and sneaky-vegetable bliss. When chopped as fine as you can muster, add those to the pan too with the gravy granules and spinach and – you guessed it – give it all a stir.
While the lentils are cooking and absorbing all that rich, winey flavour, you can make the white sauce. In a small, separate pan, heat the oil, flour and mustard together and stir briskly to form a rough paste. Add a splash of milk to loosen it, and another, and another, stirring all the time. It can be tempting to rush this step, but it will result in a lumpen, awful sauce, which in itself is not the end of the world as you can pass it through a tea strainer or sieve to separate the lumps, but try to take your time. Gradually add the milk until it is all incorporated, and leave it to cook on a low heat for around 10 minutes, where it will thicken considerably.
Now turn your oven on to 180C, and grab a suitable dish, one that looks like it will hold the same amount of lentil-mushroom-ragu that you have. Spread a layer of ragu into the bottom of the dish to cover it. Lay lasagne sheets over the top, leaving no gaps between them if you can help it. Spread a thin layer of white sauce onto the dry pasta. Then repeat: ragu, pasta, sauce, until the ragu is all used up. Top with a final layer of pasta sheets, then a generous layer of white sauce, carefully spreading it right to the edges. Sprinkle breadcrumbs generously across the top, and carefully place into the centre of the oven. Bake for 40 minutes, until golden and crisp around the edges. A knife inserted into the middle should go through the pasta easily. If not, bake for a further 10 minutes.
Cut into portions as desired, and serve.