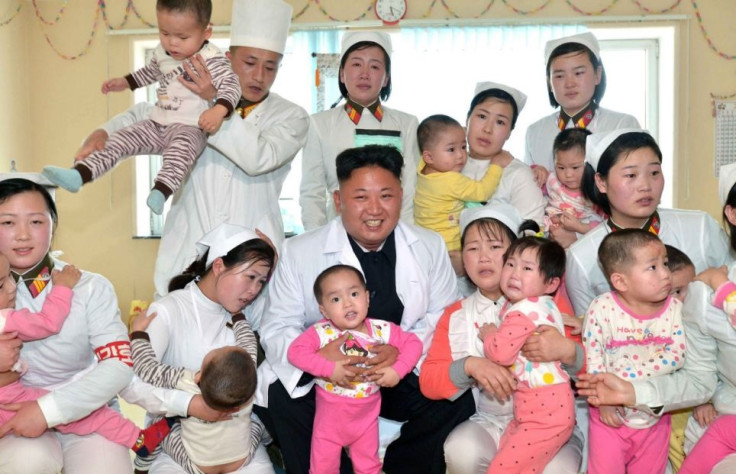 When disaster strikes a country, its leaders are usually obliged to stand up, take responsibility and face the music. But, for North Korean leader Kim Jong-un, those obligations apparently don't apply.
In the wake of a disaster in which possibly hundreds of people died when a tower block under construction in Pyongyang suddenly collapsed, Kim didn't do what most other national leaders would have done by answering some tough questions.
Instead, the head of the hermit kingdom made for an orphanage elsewhere in the city - a place where he was even more safe than usual from any awkward questions.
In the image, there is no sign Kim has a care in the world as he grins widely with a selection of babies and nurses - many of whom look pretty anxious about being in his presence.
This unfortunately timed image was issued by the regime amid scenes of trauma among the relatives of those who died in the collapse of the 23-storey building.
Kim was certainly unlikely to face too much criticism from the young pioneers, who were paraded before him in their babygros.
Following the collapse, the regime has taken the unusual step of accepting responsibility for shoddy construction practices - rather than blame its sworn enemies around the world. Thus many might infer that Kim, as sole leader with power over all aspects of the state, should shoulder the blame.
However, the chances of Kim facing any punishment or investigation in light of the disaster seem slim, to say the least.
North Korea's official news agency did claim that Kim suffered a sleepness night worrying about the tower collapse. A senior official said:
"Kim Jong-un sat up all night, feeling painful after being told about the accident, instructed leading officials of the party, state and the army to rush to the scene, putting aside all other affairs, and command the rescue operation to recover from the damage as early as possible."