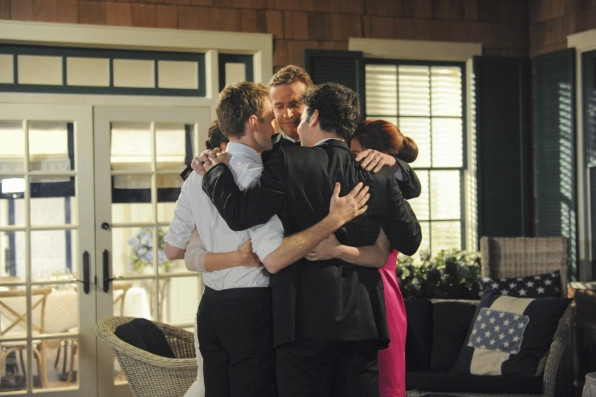 Just one more episode to go before the How I Met Your Mother series finale titled Last Forever airs on March 31.
The quirky, sweet and funny sitcom premiered on September 19, 2005 and since then the exploits of its characters; Ted, Barney, Marshall, Robin and Lily managed to entertain and engage its numerous viewers.
The show's finale has become a major topic of discussion throughout social media with several theories and speculations being put forward.
It remains to be seen what the makers have in store for the fans of the show but in the meantime, here's a small Twitter roundup of some of HIMYM's moments, memes and quotes, across all seasons.
— HIMYM Quotes (@itsHIMYMquotes) March 5, 2014
pic.twitter.com/3gyoXqHp0K — HIMYM Quotes (@itsHIMYMquotes) March 5, 2014
— HIMYM Quotes (@itsHIMYMquotes) March 1, 2014
"Never forget that on any day, you can step out the front door and your whole life can change forever..." #HIMYM — HIMYM Quotes (@itsHIMYMquotes) March 19, 2014
John Lennon/Barney: Life is what happens to you while you're busy making other plans. #HIMYM

— HIMYM Quotes (@itsHIMYMquotes) March 18, 2014
pic.twitter.com/B6l85phD5r — HIMYM Quotes (@itsHIMYMquotes) March 17, 2014
— HIMYM Quotes (@itsHIMYMquotes) March 17, 2014
Don't ever try to hold on to the past, because no matter how hard you hold on to it, it's already gone #HIMYM — HIMYM Quotes (@itsHIMYMquotes) March 8, 2014
I'm going to miss this show sooo much #HIMYM pic.twitter.com/TSjSfMnLVA

— HIMYM Quotes (@itsHIMYMquotes) March 3, 2014