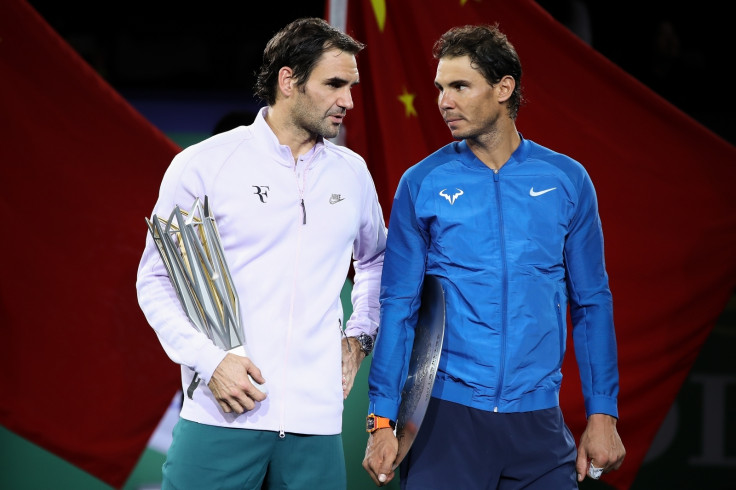 Roger Federer closed the gap on world number one Rafael Nadal to less than 2,000 points after he outclassed the Spaniard in the final of the Shanghai Masters.
The 19-time Grand Slam winner missed out on the chance to reclaim the top spot in the ATP tennis rankings after suffering a back injury in Montreal in the lead-up to the US Open in August, which was won by Nadal as he eventually reached the summit.
However, Federer, currently 1,960 points behind, now has another chance to overtake Nadal and end the year as the new world number one for the first time since 2009.
Nadal revealed that he was carrying a knee injury in his straight-sets loss to the Swiss ace in Shanghai and that he would be pulling out of the Basel Open which begins on Monday (23 October).
The 31-year-old's withdrawal has given top seed Federer a huge boost in his pursuit of the world number one ranking, with 500 points on offer should he win his hometown event for the eight time.
The Basel Open will be followed up by the Rolex Paris Masters on 30 October where 1,000 points will be up for grabs, with Federer expected to take part.
While it is not certain whether Nadal will feature or not, should Federer win in Paris, he will take his tally up to 10,005 points.
World No 1 showdown in the ATP Finals?
If that is the case, the 2017 tennis season could end on a spectacular high with a potential world number one showdown in the season-ending ATP Finals, which begin on 12 November in London.
Player

Points

1. Rafael Nadal
10,465*
2. Roger Federer
10,005**
*Should Nadal not feature until the ATP Finals
**Should Federer win in Basel and Paris
With 1,500 points on offer, whoever between the two wins in London is guaranteed to end the year as the world number one, provided Federer wins all his round robin matches.
However, if Nadal were to take part in Paris and lose to Federer in the final, he would then have to lose at least one round robin match and exit in the semi-final stage of the ATP Finals in order for Federer to overtake him.
Nadal, of course, has never won the ATP Finals and has made it his goal for the remainder of the year while Federer has won the event a record six times.
While the 36-year-old's last win in the ATP Finals came in 2011, he will no doubt enter a potential final with Nadal as the favourite, having defeated him four times already in the calendar year.
Regardless of who finishes as the year-end world number one, the pair have both had an extraordinary 2017, splitting the four Grand Slams between themselves and winning six titles each so far.