How to watch SpaceX's historic Nasa cargo launch to ISS from Kennedy Space Center
'Some of humanity's greatest adventures in orbit began at Launch Complex 39A,' Nasa said.
SpaceX is set to make history on Saturday, 18 February, with the launch of its first Falcon 9 rocket to the International Space Station from the historic Launch Complex 39A at Nasa's Kennedy Space Center in Florida.
The launch will be SpaceX's 10th Commercial Resupply Services (CRS-10) mission for Nasa, carrying an unmanned Drago cargo spacecraft filled with over 5,000lb (2,268kg) of research and supplies to support dozens of science and research investigations on the orbiting laboratory.
This will be the first rocket to lift off from the historic launch pad that was built in the 1960s. It was previously used for the Apollo and space shuttle programmes and has not hosted a launch since July 2011 when the last space shuttle was launched.
"Some of humanity's greatest adventures in orbit began at Launch Complex 39A," Nasa said in a statement. "Astronauts lifted off from this pad six times between 1969 and 1972 to walk upon lunar soil."
The Dragon will separate from Falcon 9's second stage around 10 minutes after liftoff and attach to the ISS about two days later.
It carries advanced space research to improve disease-fighting drugs and automate spacecraft navigation as well as an instrument to monitor and study the ozone layer from outside the ISS and research to automate spacecraft navigation.
SpaceX will also attempt to land the first stage of the Falcon 9 rocket back at Cape Canaveral as part of its efforts to reuse its rockets and cut down on mission launch costs.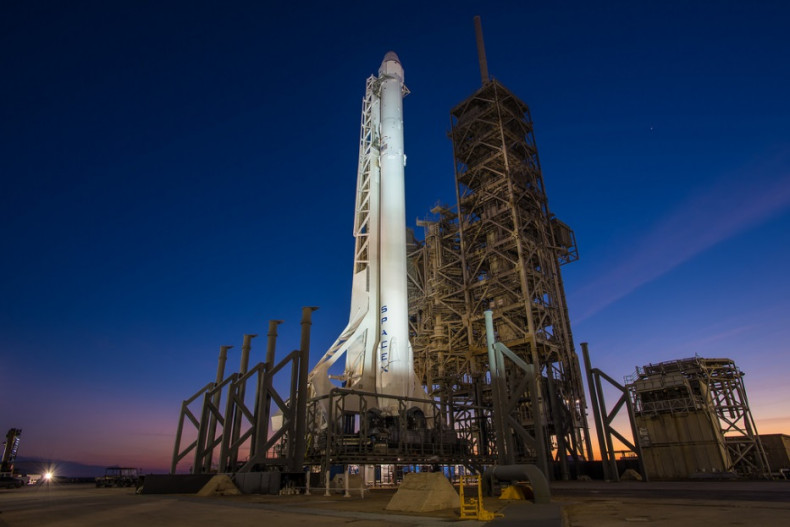 The mission is part of the spaceflight company's contract with Nasa, worth around $3bn (£2.4bn), to resupply the space station through 2024.
SpaceX founder and CEO Elon Musk tweeted on Friday that the company was investigating a "very small leak" in the rocket's upper stage. A few hours later, he confirmed that it "looks like we are go for launch."
Last week, the tech executive billionaire posted a photo of the Falcon 9 rocket vertical at Cape Canaveral on launch complex 39-A on Instagram.
"This is the same launch pad used by the Saturn V rocket that first took people to the moon in 1969," the caption reads. "We are honored to be allowed to use it."
The Saturday launch is the first one for SpaceX from Florida since the catastrophic explosion in September 2016 that destroyed the vessel as well as the Israeli firm Spacecom's $200m Amos 6 communications satellite.
After being grounded for four months, SpaceX successfully returned to flight in January this year with the launch of its Falcon 9 rocket carrying a payload of 10 Iridium satellites from the California-based Vandenberg Air Force Base. The company said it plans to launch its rockets every two to three weeks once the new Florida launch pad opens to relieve its backlog of 70 missions worth over $10m.
Where to watch the historic CRS-10 mission launch
Date: Saturday, 18 February, 2017
Time: 8.30am ET/ 1.30pm GMT/ 5.30am PST with liftoff at 10.01am ET (3.01pm GMT / 7.01am PST)
Venue: Launch Complex 39A at Nasa's Kennedy Space Center, Florida
Where to watch live: Launch will be streamed live on NASA TV and SpaceX's hosted webcast on YouTube.
A backup launch opportunity is scheduled at 9.38am ET on Sunday, 19 February.