Elon Musk's SpaceX has successfully returned to flight after launching its first Falcon 9 rocket since the massive, expensive accident in September last year destroyed the vessel along with its payload. The Falcon 9 rocket successfully lifted a payload of 10 satellites into orbit for communications company Iridium, delivering the satellites into low-Earth orbit about an hour after launch.
Shortly after the initial takeoff from the Vandenberg Air Force Base in California, SpaceX was able to land the first stage of the rocket on the "Just Read the Instructions" drone ship in the Pacific Ocean.
The successful launch on Saturday (14 January) brings the Falcon 9's success rate up to 28 in 30 flights since its debut in 2010. It also marks SpaceX's first successful launch since the spectacular launch pad explosion at Cape Canaveral in Florida on 1 September grounded operations for over four months.
The huge explosion destroyed the rocket as well as Israeli firm Spacecom's $200m (£166.2m) Amos 6 communications satellite that was supposed to be used by Facebook to provide high-speed internet access to Africa, the Middle East and Europe.
"It typically takes nine to 12 months for people to return to flight. That's what the history is," Tory Bruno, CEO of United Launch Alliance, told Reuters after the incident.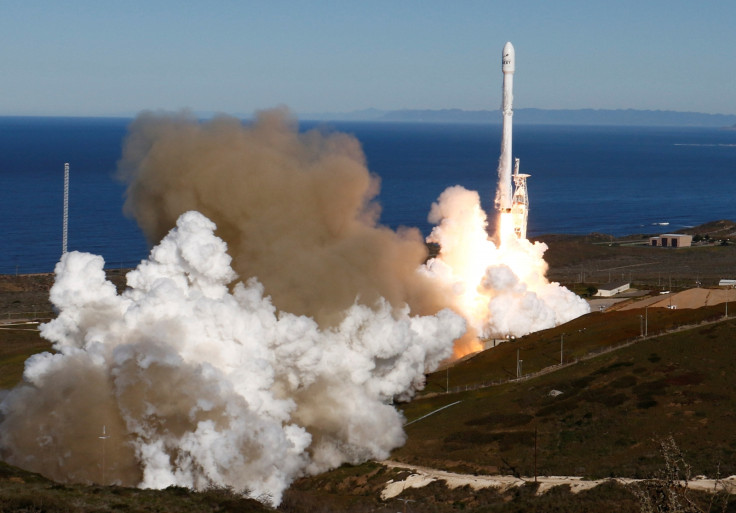 Earlier this month, an internal investigation concluded that the costly explosion was caused by a failure in a helium tank in the second-stage liquid oxygen tank. The SpaceX team adjusted its pre-launch and fuelling procedures to avoid another accident.
The Federal Aviation Administration accepted the company's investigation report and granted SpaceX a launch licence to cover the seven liftoffs required to launch Iridium's 70 NEXT satellites from Vandenberg.
Over the next 18 months, Iridium plans to deploy its series of NEXT satellites to replace and enhance its existing constellation of low-Earth orbit satellites in what it calls one of the biggest "tech refreshes" in history. The company has a seven-flight contract with SpaceX worth over $468m to deploy 10 satellites at a time.
"Today Iridium launches a new era in the history of our company and a new era in space as we start to deliver the next-generation of satellite communications," Iridium CEO Matt Desch said in a statement following Saturday's successful launch.
The company said the second Iridium NEXT launch will be scheduled in April after on-orbit testing of these satellites is completed to make sure their performance requirements are met.
The first liftoff was initially supposed to take place on 9 January but was pushed back to 14 January due to bad weather and launch-site availability issues.
On Friday, the Wall Street Journal reported that SpaceX lost $260m and suffered a 6% drop in revenue following its first Falcon 9 in-failure in June 2015 and launched just six missions that year instead of its initially planned 12 missions. Internal financial documents accessed by the publication also revealed that the company planned to launch 20 rockets in 2016 and 27 this year.
"Since 2002, we have been at the forefront of revolutionizing space technology, with a solid track record of success, strong customer relationships and more than 70 future launches on our manifest, representing over $10 billion in contracts," Bret Johnsen, SpaceX's chief financial officer, said in a statement to the New York Times. "Furthermore, with over $1 billion in cash reserves and no debt, the company is in a financially strong position and is well positioned for future growth."