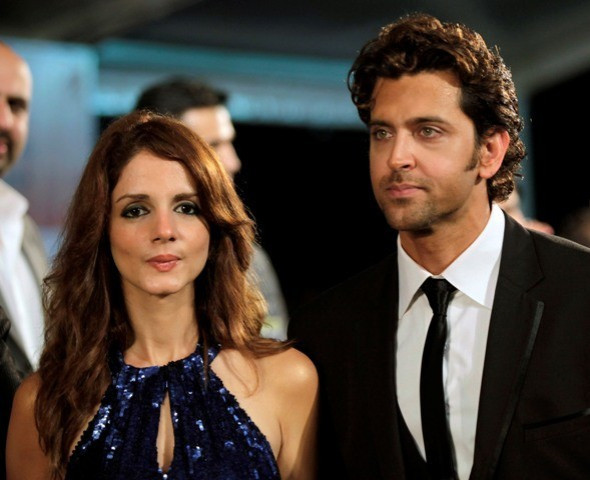 Bollywood superstar Hrithik Roshan and Sussanne Roshan's marriage of 13 years is over. Roshan, who is in the US for a medical check-up, issued a statement on Friday.
"Sussanne has decided to separate from me and end our 17-year relationship. This is a very trying time for the entire family and I request the media and the people to grant us our privacy at this time.''
While the actor's father Rakesh Roshan confirmed that the couple is separating, Sanjay Khan, Sussanne's father, said it need not be the end.
Reportedly, Roshan's marriage has been on the rocks for quite some time. There have been a number of reasons associated with this matter. The media first gave an indication related to the issue when they linked Hrithik Roshan with actress Kareena Kapoor in 2001. The rumour was dismissed by the actors but strangely enough, the two have never worked together since in a film. Their biggest hit together was the 2001 family drama Kabhi Khushi Kabhi Gham.
Next, there were reports of something brewing between Roshan and Spanish actress Barbara Mori who was also his co-star in the 2010 film Kites. Sussanne was reportedly very upset with Hrithik's closeness to the actress and it was around then that she moved out of the Roshan residence and checked into a hotel (citing reason that her house was under renovation). However, she moved back once Mori returned to Mexico.
A recent report in Times of India, stating the reasons behind the separation also suggested Sussanne's growing closeness with actor Arjun Rampal, even though a common friend stated that Rampal and his wife Mehr both are good friends of Sussanne Roshan.
But the real reason according to the report is friction between Sussanne and her mother-in-law. Both women have been at loggerheads for some time now and that is the reason Sussanne wants to call it quits. Her insistence on living separately from the rest of the Roshan clan did not go down to well with her husband and that, combined with her not getting along with her mother-in-law, has led to this separation.
Sussanne, an interior designer, has been living separately from the family for nearly four months now. According to a TOI report, a source said: "She has been living with her children for some time now in a building at Four Bungalows in Versova, which is also closer to her shop. Both her children Hrehan and Hridhan do visit their father regularly.''
Sussanne, who has been avoiding the media and stopped making public appearances with Hrithik, also issued a statement. She said, "We are two individuals who respect and care for each other and have made our own individual choices. We are parents to two wonderful kids and our responsibility remains to protect and take care of them. Nothing can change that. Would appreciate if we are given our privacy in such a time. Thank you for your warmth & concern for both of us and the family.''