HTC officially unveiled its new flagship smartphone, HTC One featuring a 4.7in full HD display. The Jelly Bean powered smartphone bundles several new features including HTC BlinkFeed, HTC Zoe, HTC BoomSound and the new HTC Sense user interface v5. Another key feature is that the smartphone has a four megapixel camera with UltraPixel sensor which promises 300 per cent more light than traditional camera sensors. The device is expected to hit the UK market starting 15 March.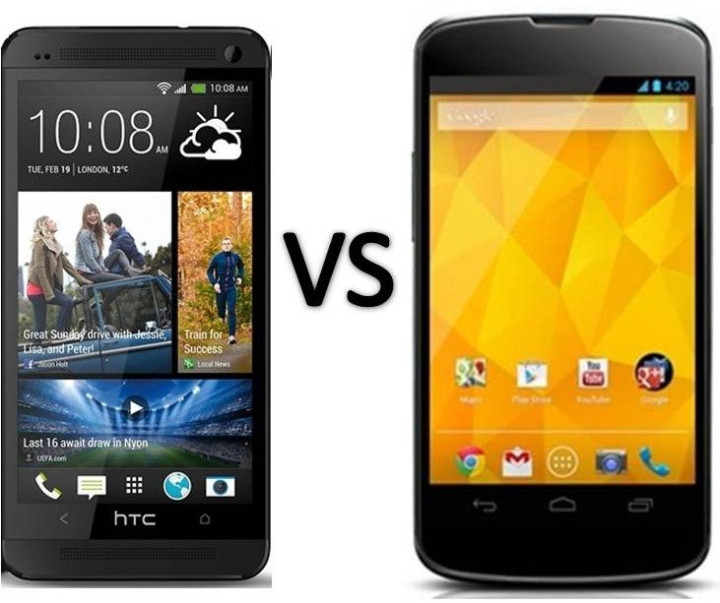 Check out how the HTC One fares against Google's fourth generation Nexus branded smartphone, Nexus 4.
HTC One vs Nexus 4: Display
HTC One features a 4.7in full HD display with resolution measuring 1080 x 1920 pixels giving it a pixel density of 468 pixels per inch (ppi). This is remarkably higher than the pixel density of the high resolution Retina display of Apple's latest iPhone 5 (at 326ppi).
HTC One is wrapped in what is termed as a 'zero-gap aluminium unibody,' which means there are no seams on the phone. The 4.7in screen of HTC One is similar to that of the Galaxy S3 and feels comfortable to use with one hand.
The Nexus 4, like the HTC One, has a 4.7in True HD IPS Plus display with screen resolution and pixel density less than the HTC One, at 768 x 1280 pixels and 320ppi.
The True HD IPS display of Nexus 4 is supported by 'Zerogap Touch technology,' which is designed to deliver clear viewing experience. The Zerogap Touch has an ITO sensor film which is printed on the glass directly while removing the air gap trapped between two elements. The technology reportedly reduces the thickness of the display while offering slim design and sharp viewing experience.
HTC One vs Nexus 4: Dimensions
The HTC One and Nexus 4 are almost identical in terms of footprint and are also similar when it comes to thickness with HTC One at 9.3mm and Nexus 4 measuring a thickness of 9.1mm. As far as the weight is concerned, there is a marginal difference between both the handsets with HTC One only four grams heavier than the Nexus 4, at 143g.
HTC One: 137.4 x 68.2 x 9.3
Nexus 4: 133.9 x 68.7 x 9.1
HTC One vs Nexus 4: Operating System
The HTC One will run on Android 4.1.2 (Jelly Bean) once it comes out of the box. Besides, it will have the new HTC Sense user interface (UI) v5.
The Nexus 4 was Google's first smartphone to feature the latest version of Jelly Bean, Android 4.2. It bundles some new features including Gesture Typing which enables users to glide their fingers over the letters they want to type on the keyboard which in turn makes typing fast. The Android 4.2 also adds support for wireless display allowing users to share movies, YouTube videos and images on their TVs.
The smartphone runs on the Android 4.2.2 software version which Google recently released fixing several bug issues
HTC One vs Nexus 4: Processor and RAM
Both HTC and Google use Qualcomm's chipsets for their flagship smartphones. HTC One integrates Qualcomm's new Snapdragon 600 chip which features a quad-core krait 300 processor with each core running at clock speeds up to 1.7GHz. The Snapdragon 600 chip features Adreno 320 graphics unit.
The Snapdragon 600 quad-core processor is said to be the first to offer four 1.7GHz Krait CPU cores. A range of benchmarks, conducted by GSMArena followed by the announcement of the device, suggests that the HTC One bettered several high-end rival smartphones including the newly released Sony Xperia Z, Galaxy S3, Nexus 4, HTC Butterfly, One X and One X+ while scoring highest points in the tests. The Snapdragon 600 quad-core processor delivers faster performance.
The Nexus 4 uses Snapdragon S4 Pro chip featuring a quad-core Krait processor clocked at 1.5GHz, and paired with an Adreno 320 graphics unit. The Snapdragon S4 Pro quad (APQ8064), according to benchmark tests, has been proved to be an equally powerful processor which was first adopted into Mobile Development Platform (MDP/T) for Android tablet.
Both the handsets have 2GB of RAM.
HTC One vs Nexus 4: Camera
HTC One has a four megapixel 'UltraPixel' camera, which is an advanced imaging technology. The UltraPixel camera sensor, as HTC claims, gathers 300 per cent more light (which is more than 8 or 13 megapixel cameras) compared to the regular smartphone camera sensors.
The new camera technology will enable users to quickly capture colourful photos even in low-light conditions. The technology brings several other improvements. It adds another camera feature called HTC Zoe which allows users to automatically record action both before as well as after the shutter button is pressed.
HTC's new handset has a 2.1 megapixel front-camera featuring wide angle lens with HDR (High dynamic range) capability. Both the front and rear cameras are capable of recording 1080p full HD video.
The Nexus 4, on the other hand, carries an eight megapixel rear-camera with technologies including auto-focus, LED flash, touch-focus, geo-tagging and face detection. The camera can record 1080p video at 30 frames per second (fps). The handset also has a 1.3 megapixel HD front-camera.
The Android 4.2 adds a new camera feature in Nexus 4 called Photo Sphere which allows users to capture photos (larger in size) in every direction. Moreover, users can share their photos on Google+ and add Photo Sphere to Google Maps.
HTC One vs Nexus 4: Connectivity
HTC One offers Wi-Fi 802.11 a/ac/b/g/n, Wi-Fi Direct, DLNA, Wi-Fi hotspot and Bluetooth v4.0.
The Nexus 4 also offers Wi-Fi 802.11 a/b/g/n, dual-band, DLNA, Wi-Fi hotspot, Bluetooth v4.0 with A2DP. It offers data speed DC-HSDPA up to 42Mbps, HSDPA up to 21Mbps and HSUPA up to 5.76Mbps.
Both the devices are Near Field Communication (NFC) enabled. However, the key difference in terms of connectivity is while the HTC One boasts 4G network speeds, the Nexus 4 connects to 3G network speeds only.
HTC One vs Nexus 4: Storage
The Nexus 4 is available in two storage variants: 8GB and 16GB whereas HTC One will come with slightly bigger storage capacity, at 32GB and 64GB. Interestingly, both Google and HTC's smartphones do not support microSD card for additional storage.
HTC One vs Nexus 4: Battery
HTC One stores about 200mAh more power than the Nexus 4 featuring a bigger battery of 2300mAh.
HTC One vs Nexus 4: Price
The 16GB Nexus 4 is approximately £231 cheaper than the 32GB of HTC One which is available at a suggested retail price of £510 (including VAT) at Clove UK. The 8GB Nexus 4 comes at £239 at Google Play Store.