With Samsung and HTC having launched the mini versions of their flagship smartphones, Galaxy S4 Mini and HTC One Mini, IBTimes UK compares the two handsets.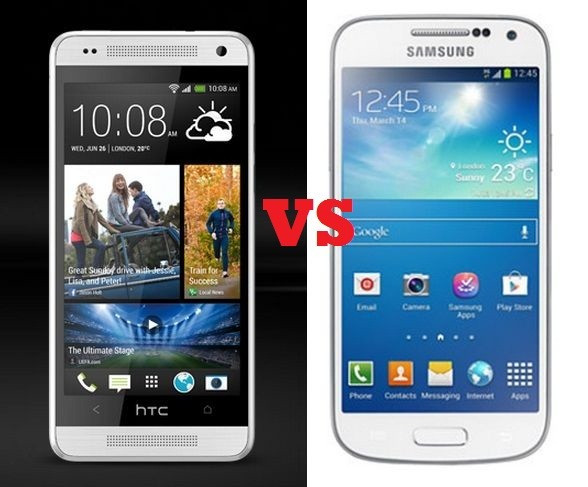 One Mini vs Galaxy S4 Mini: Display
Both the mini versions of Samsung and HTC feature a 4.3in screen. While the One Mini has an HD screen, the Galaxy S4 Mini has a quarter HD screen. A key difference is: the One Mini has a Super LCD2 screen whereas the S4 Mini features, like the Galaxy S range smartphones, Super AMOLED display.
The AMOLED display of the S4 Mini features resolution at 540 x 960 pixels, giving it a pixel density of 256 pixels per inch (ppi). The HTC One Mini with its high definition screen, obviously, has a higher screen resolution as well as holds greater number of pixels than the S4 Mini, at 720 x 1280 pixels and 342 ppi.
The display difference between the two mini handsets is quite obvious when they are placed side-by-side. While it is easy to read web pages when the HTC One Mini is fully zoomed, the lower resolution screen of the S4 Mini makes reading slightly difficult, notes Expert Reviews. The S4 Mini offers vibrant colours and wide viewing angles.
Although the One Mini does not match the flagship HTC One in terms of resolution and pixel density (at 1080 x 1920 pixels, 469 ppi), the screen of the One Mini looks quite better with accurate colour reproduction and not over-saturated and unreal as noticed in the AMOLED screen, according to a review by IBTimes UK.
One Mini vs Galaxy S4 Mini: Dimensions
The One Mini is 132mm tall by 63.2mm wide and 9.25mm thick. Considering the dimensions, the Galaxy S4 Mini is slightly smaller, less wide and thinner than the One Mini, featuring a thickness of just 8.94mm.
The S4 Mini is reasonably lighter than the One Mini, at 107g, owing to the plastic body. The One Mini, on the other hand, has an aluminium body with a plastic edge.
Thanks to the 4.3in screen, both the One Mini and the S4 Mini are pocket-friendly, quite handy and easy to operate with one hand.
Galaxy S4 Mini: 124.6 x 61.3 x 8.94mm, weight 107g
One Mini: 132 x 63.2 x 9.25mm, weight 122g
One Mini vs Galaxy S4 Mini: Operating System
The Galaxy S4 Mini and the One Mini run Android 4.2.2 Jelly Bean out of the box. The latest operating system (OS) brings major improvements and changes over the previous Android version, 4.1.2. The key features of Jelly Bean software include Gesture Typing, Photo Sphere, Daydream, enhanced Google Now, Google Search and Android Beam. It adds support for wireless display which enables users to share movies, YouTube videos and other videos and images on their TVs.
As for software, the S4 Mini and the Galaxy S4 have a few common features such as S Translator which provides instant translation both from speech-to-text and text-to-speech and S Health which enables users to monitor caloric balance and health condition. Sound&Shot, Story Album, Group Play, ChatON and WatchON are some of the other important features. It also comes with the latest TouchWiz user interface as the Galaxy S4.
The One Mini features HTC Sense 5 UI and integrates technologies including HTC BlinkFeed homescreen reader, HTC Zeo and HTC BoomSound.
One Mini vs Galaxy S4 Mini: Processor and RAM
The One Mini as well as the S4 Mini use Snapdragon 400 chip featuring a dual-core processor. But the major difference is, while the dual-core processor of the S4 Mini is clocked at 1.7GHz, each core of the One Mini runs at clock speed up to 1.4GHz, and paired with Adreno 305 graphics unit (both S4 Mini and One Mini).
The Galaxy S4 Mini comes with 1.5GB of RAM as opposed to 1GB RAM of the One Mini.
One Mini vs Galaxy S4 Mini: Camera
The One Mini inherits the four megapixel UltraPixel camera sensor incorporating advanced imaging technology of the HTC One. The UltraPixel camera sensor, which captures 300% more light than traditional smartphone camera sensors, captures photos in incredible detail and enhanced dynamic range, even in dim light conditions. The UltraPixel camera also adds HTC Zeo, a camera feature that lets capture four or five full resolution still images per second while recording three seconds of 1080p video. The rear-camera can record 1080p full HD video with HDR video.
The device also has a 1.6 megapixel front-camera with BSI sensor, which can capture 720p video.
The Galaxy S4 Mini has an eight megapixel rear-facing camera with auto-focus, LED flash, geo-tagging, touch focus, face detection, HDR (High Dynamic Range), Panorama, Best Photo, Best Face, Beauty Face, Sports and Continuous Shot. It can capture 1080p video at 30 frames per second (fps). The handset also has a 1.9 megapixel HD front-facing camera.
One Mini vs Galaxy S4 Mini: Connectivity
The One Mini offers Wi-Fi 802.11 a/b/g/n, dual-band, DLNA, Bluetooth v4.0 with A2DP, whereas the Galaxy S4 Mini offers Wi-Fi 802.11 a/b/g/n, dual-band, DLNA, Wi-Fi direct, Wi-Fi hotspot, Bluetooth v4.0 with A2DP + LE +EDR and is Near Field Communication enabled. Both handsets support 4G LTE network speeds.
One Mini vs Galaxy S4 Mini: Storage
The One Mini is available in 16GB storage variant and the Galaxy S4 Mini in 8GB. The primary difference in terms of storage capacity is the Galaxy S4 Mini supports microSD card for additional storage up to 64GB whereas the One Mini lacks this feature.
One Mini vs Galaxy S4 Mini: Battery
The battery of the Galaxy S4 Mini powered with a 1900mAh battery stores approximately 100mAh more energy than the One Mini, which uses an 1800mAh battery.
According to battery tests, the One Mini offers a talktime of over 12 hours (12 hours and four minutes); web browsing of more than eight hours (eight hours and 12 minutes); video playback of seven hours and 23 minutes and scores 40 hours in the endurance rating.
The Galaxy S4 Mini, on the contrary, lasts for 13 hours and 10 minutes in talktime, nine hours and 47 minutes in web browsing and 13 hours and 12 minutes in video playback. The S4 Mini scores a higher endurance rating than the One Mini, at 54 hours, which means the S4 Mini can run for 54 hours on a single charge with one hour each for calling, web browsing and playing video.
One Mini vs Galaxy S4 Mini: Price
The 8GB Galaxy S4 Mini priced at £366 is £16 cheaper than the 16GB variant of the One Mini which costs £379.99 including VAT. (The price tags for both the devices are according to Clove UK)