Key Features:
Windows Phone 8 operating system
4in screen; 480 x 800 resolution; 233ppi
1GHz dual-core processor with 512MB of RAM
4GB internal storage, plus microSD card slot
Beats Audio sound enhancement
Price: £225 SIM-free
HTC Windows Phone 8S: Introduction
Fitting in below the flagship Windows Phone 8X, the HTC Windows Phone 8S (I'm going to drop the Windows Phone bit for my own sanity) is a mid-range smartphone running Microsoft's latest mobile operating system and goes up against the Nokia Lumia 820.
The HTC 8S has a curious matte finish to its two-tone plastic construction, wrapped around a 4in glass-covered display, and there's a 5-megapixel camera on the back.
I've already looked at the HTC 8X and Nokia Lumia 920 - both running Windows Phone 8 - and went so far as to say that the 8X is the third best smartphone of 2012. Will the 8S offer the perfect mid-range answer for anyone tempted by Windows Phone, but put off by the 8X's price?
HTC Windows Phone 8S: Design and Feel
The HTC 8S is strange. Not in a bad way, just in an interesting, that's-a-bit-different kind of way.
Firstly, it's two-tone, so you get a main colour (grey, in the case of my review unit) on the back and around the screen edge, with a second colour over the earpiece, around the rear camera and across the bottom of the device.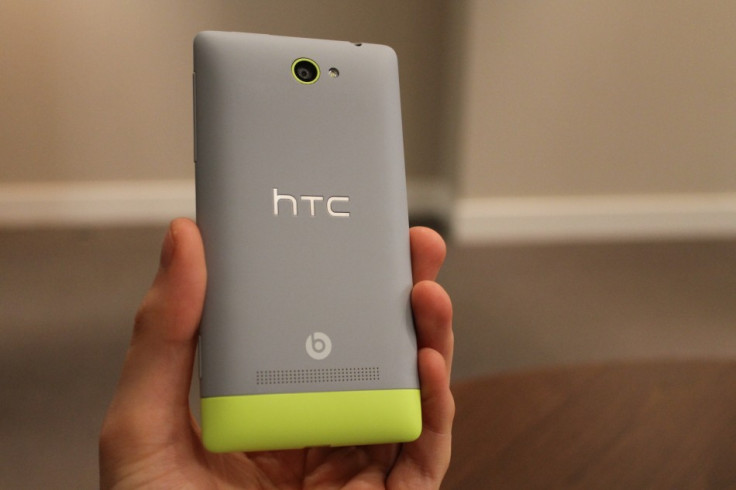 This strip of colour houses three capacitive touch buttons below the screen for Back, Home and Search commands, and a removable panel on the back, revealing access to the micro SIM and microSD card slots.
The matte finish gives the HTC 8S a similar feeling to that of the HTC One X, and added to the light grey of my review unit it makes the phone feel like a prototype; not unfinished though, just...different. I like it.
Some might not like the lime green/yellow trim of my 8S (it's retina-burning bright), so thankfully HTC offers the 8S in blue, orange, and black-and-white.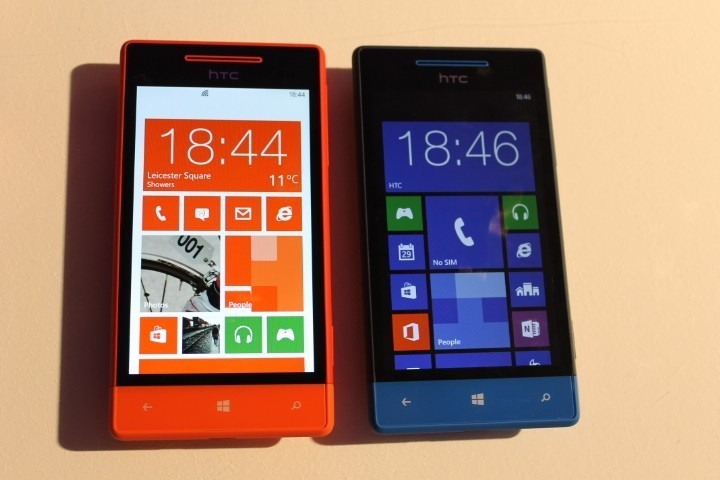 Away from the 8S's quirky colours and finish, the phone is exactly as you'd expect. There's a power button at the top, volume rocker and two-stage camera button on the right, nothing on the left, and a micro USB port on the bottom for charging and syncing.
At 113g, the HTC 8S is one of the lightest smartphones on the market, just a gram heavier than the iPhone 5 and much lighter than the hefty 185g Nokia Lumia 920.
The phone measures 121 x 63mm, and is just over 10mm thick, making it very pocket-friendly, and although it is slightly wider and 3mm thicker than the iPhone 5, the HTC is still very comfortable to use
The HTC 8S feels great in the hand; it's light and thin, and the compact size means you can hold it firmly, rather that feeling like the phone is resting precariously on top of your hand, as is the case with larger handsets.
HTC Windows Phone 8S: Hardware and Connectivity
Despite costing a little over £220, the HTC 8S has most of the bells and whistles you would expect from a high-flying smartphone. There is Wi-Fi n, Bluetooth 3.1 with A2DP to stream music to wireless headphones and speakers, a microSD card slot to increase the (admittedly insufficient) 4GB of internal storage, and a GPS chip.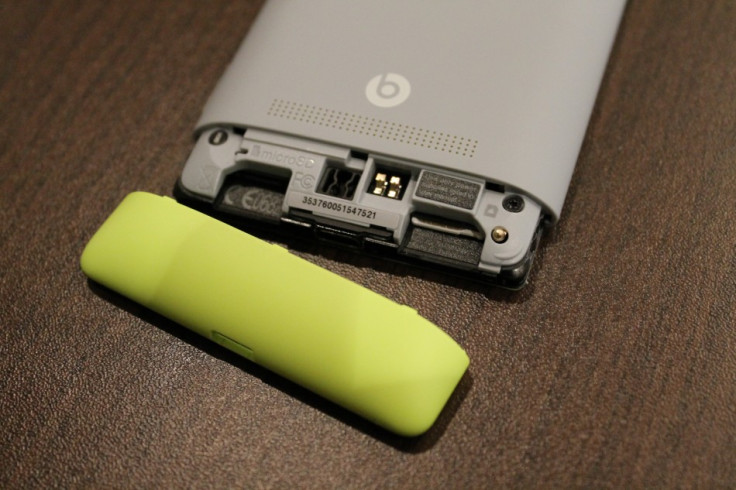 The lack of adequate internal storage is a shame, considering the included Beats Audio technology, which I suspect appeals to users with large music collections in need of the storage space to match .
The microSD slot will take cards up to 32GB, and with such a card costing less than £15 online, the puny internal space is more minor annoyance than deal-breaker.
As with the HTC 8X, the 8S misses out on 4G, leaving the Nokia Lumia 920 as the only option if you want Windows Phone 8 and superfast mobile broadband, although I'm expecting more 4G handsets to arrive throughout 2013.
HTC Windows Phone 8S: Operating System and Performance
I've already looked at Windows Phone 8 in detail, so to save repeating myself too much, I'll instead look at how the fairly low-powered 8S deals with WP8.
The HTC 8S has a 1GHz dual-core processor with just 512MB of RAM. This means that, while the Windows Phone 8 operating system is almost as fast and responsive as it is with the HTC 8X and Nokia 920, the 8S starts to show its lack of power when loading up 3D games, and multi-tasking.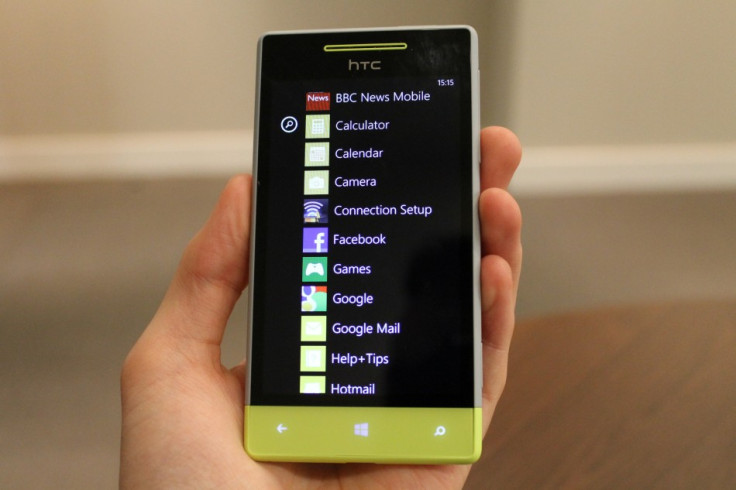 The operating system's own apps - calendar, email, browser etc - all work fine and load just about instantly, but I found Twitter and Facebook to be far less responsive.
It's early days for WP8, so hard to say if the problem is with HTC, Microsoft or the app developers themselves, but being greeted with a 'resuming...' or 'loading...' screen before I could get to Twitter is annoying.
The HTC 8S can multitask - a long press of the Back button brings up thumbnails of your recently-used apps - but the ability to jump right back into an app or game doesn't last for long.
Switching between Angry Birds and text messaging is as quick as with any other phone or operating system, but open up a few more apps and switching back to the oldest one takes more time.
Eventually, my game of Angry Birds reset to the first loading screen, so be aware that if you leave a game paused for too long (and open up some other apps) you won't always be returned to exactly where you left it.
Again, with WP8 being so new, this issue may well be rectified in time, but for now the platform does not offer true multitasking.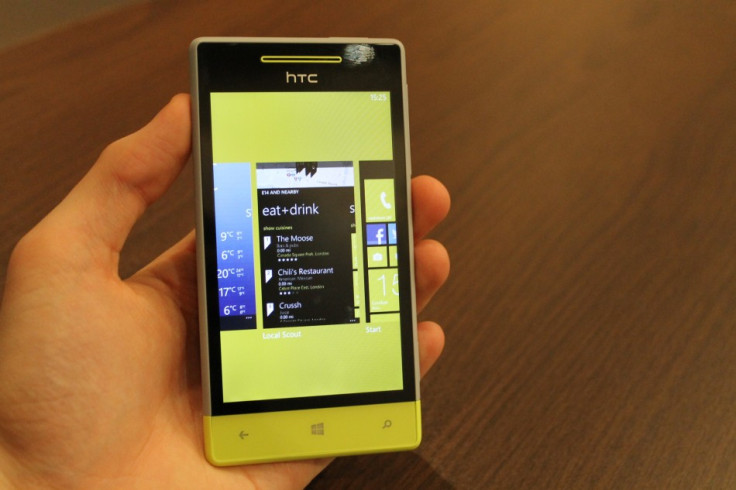 There are other creases to be ironed out, and some of them - like the complete lack of a notification centre - are major problems that need to be addressed urgently by Microsoft if it is to steal market share from Google and Apple.
Despite its shortcomings, Windows Phone 8 in an attractive and incredibly customisable operating system; Microsoft is right when it says that no WP8 start screen need look the same, thanks to adjustable tile size, position and colour.
An area where the HTC 8S stood out for me was battery life. I was so used to charging smartphones of all shapes and sizes every night, that when the 8S was still going strong on its third day, I thought the battery life icon had got stuck.
But no, the phone genuinely survived from Friday evening until Monday morning. It remained on the entire time (no use of Airplane mode at night) with push notifications from Facebook and Twitter, two email accounts, and the screen set to automatic brightness.
At 1700mAh, the HTC's battery is larger than that of the iPhone 5 (1440mAh), but I was still very impressed to see the phone last more than two full days and nights.
Of course, your mileage will vary and I didn't make many phone calls during my time with the 8S, but I would certainly trust it to last a full weekend of average use - something I can't say about my iPhone.
As a side note, I'm pleased to report that the HTC 8S has not suffered from any of the random reboot problems I encountered with the larger 8X. The only problems I had with the 8S involved the user interface occasionally slowing down for a moment, usually while switching between applications.
HTC Windows Phone 8S: Display
With a resolution of 480 x 800 giving it a pixel density of 233 pixels per inch, you'd be forgiven for thinking that the HTC 8S's LCD touchscreen isn't up to much. But thanks to the bright and bold interface of Windows Phone 8, it's not bad at all.
Yes, you can just about see individual pixels, and it can't show off full HD video, but it's nowhere near as bad as I was expecting; colours are bold and sharp, blacks are deep, the contrast is good (as is the viewing angle), and reflections are kept to a minimum.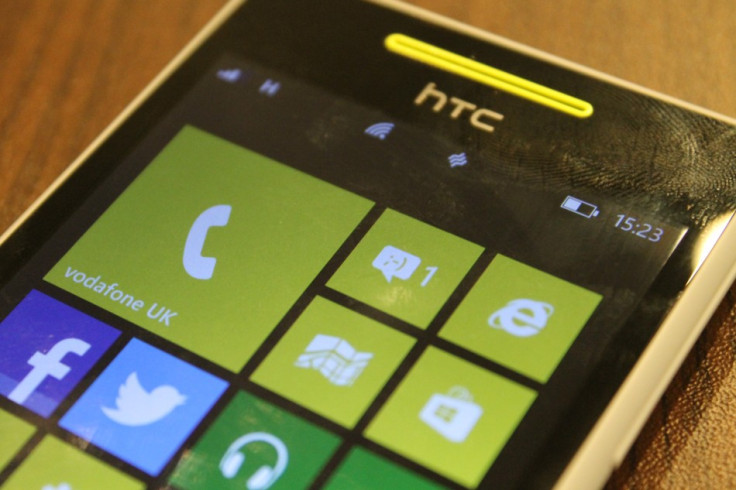 The Corning Gorilla glass picks up fingerprint smudges like it's going out of fashion, but a quick wipe on your jeans soon fixes that, leaving you with a display that is surprisingly good for a phone of this price.
HTC Windows Phone 8S: Camera
The HTC 8S has a 5-megapixel rear camera with LED flash, can shoot 720p HD video, and has exactly the same user interface and features as the 8-megapixel camera in the HTC 8X.
Open the camera app with a long press of the shutter button on the phone's right edge (also possible when the phone is locked), and from there you can tap the screen or press the shutter button to take a photo.
While the shutter button is well-placed to press with your right index finger, it's all-too-easy to accidentally cover the lens with your left hand, unless you hold the phone right at the edge - this is a common problem with locating the camera in the middle of a smartphone, I'd rather it was in the top corner.
As with most Android phones, the Windows Phone 8 camera app offers a wide range of settings to be adjusted, such as resolution, white balance, exposure, and ISO.
You can also control the flash, and there's a link to your lenses, which are add-on apps for the camera that can perform certain tasks, like translate any writing you point the phone at, or apply real-time effects.
Lenses are essentially mini apps that can be downloaded from the Windows Phone store, and the majority are free. There's only a dozen or so to chose from so far, but with each WP8 phone I test more Lenses appear, so it's good to see developers are steadily getting on board.
Photos taken outside were fine for sharing online and maybe even printing at a sensible size, but indoors (without flash) the 8S's camera struggled, adding quite a lot of noise, even in a fairly well-lit office.
There's no front-facing camera, so Skype video calls are off the cards, but that's not something I ever do anyway.
HTC Windows Phone 8S: Verdict
After seeing the spec sheet, I expected the HTC 8S to be a disappointment. It's smaller, has a less powerful processor, a lower resolution screen and is almost half the price of the 8X; how can it possibly be any good, I asked myself.
Turns out, it has won me over by compromising just enough, and in the right places. This isn't an expensive-looking phone with a terrible screen, nor is it a phone with a poor operating system and a fantastic camera.
Instead, it's a well-balanced phone, where no one feature hogs all the limelight, and no feature lets the device down too much (save for the storage, but that's a cheap fix).
At £225 SIM-free, the HTC 8S offers a step onto the Windows Phone 8 ladder that most budgets can reach. In return, you get an operating system that is strikingly different from iOS and Android, and more customisable than the competition could dream of, along with a quirky-but-likeable design, unmatched battery life and the build quality of phones costing twice as much.
My only gripe is with Microsoft, and WP8's lack of apps and a proper notification centre. The company says it is working to fix this soon, and when it does (and some apps gets the performance tweaks they need), the HTC 8S will be a highly recommended mid-range phone.
Scores
Screen: 8/10
Design: 8/10
Camera: 7/10
Operating System: 7/10
Build Quality: 9/10
Overall: 8/10
The Good:
Great design, although perhaps not for everyone
Screen is much better than the resolution lets on
Superb battery life
Windows Phone 8 is easy to use and highly customisable
The Bad:
Camera is average and there's isn't one on the front
Windows Phone 8 has no notification centre
Lack of apps from third party developers, for now at least